A Rangel-Free Flyer for Schneiderman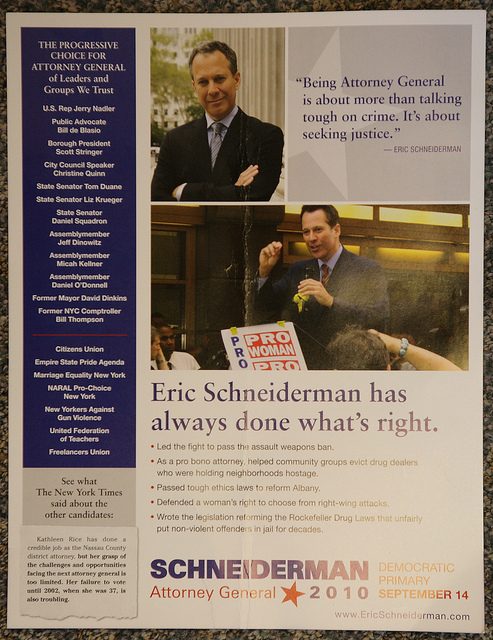 Here's the latest example of Democratic attorney general candidate Eric Schneiderman putting some distance between himself and Rep. Charlie Rangel, a high-profile supporter who has come under fire for accusations of ethical wrong-doing.
Rangel is not listed on this campaign flyer from Schneiderman.
Schneiderman has juggled his association with Rangel deftly. Rangel had been among the supporters at Schneiderman's kick-off event earlier this year.
And Schneiderman was the only attorney general candidate to personally attend Rangel's birthday party fund-raiser, which proved to be a tricky task for candidates promising to clean up Albany's image as a "swamp or corruption."
(Disclosure note: Schneiderman's father, Irwin Scheniderman, who has been a significant donor to his son's campaign, is a long-time member of the WNYC Board of Trustees and has been a generous donor to the station over the years.)