Assemblyman Camara: I 'strongly object' to court's congressional plan for Brooklyn
In a forceful letter to magistrate judge Roanne Mann, Brooklyn Assemblyman and head of the Black, Puerto Rican, Hispanic & Asian Caucus, Karim Camara made it clear he was not keen on the way Brooklyn's two historically black congressional districts had fared in the judge's draft maps.
Camara has a two-fold beef: the district that closely tracks Rep. Yvette Clarke's district--a mostly ethnically Caribbean area--now shoots north to pickup the historic African American neighborhoods of Fort Greene and Clinton Hill, while the Rep. Ed Towns doppelganger district is now shooting all the way down to Coney Island. To do this Towns' district has to pick up a large chunk of mostly white neighborhoods in southeastern Brooklyn.
"These neighborhoods have nothing in common – racially, culturally, geographically, ideologically or socioeconomically – with the African-American neighborhoods of central and east Brooklyn and it would be a grave mistake to include them," Camara writes.
He goes on to blast the judge for drawing both Congressman Towns and one of his rivals for the job, Assemblyman Hakeem Jeffries, out of the district they've been running to represent.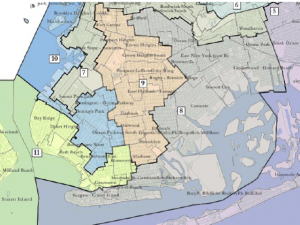 "The plan proposed by the court will short-circuit a democratic contest that is already underway, possibly depriving hundreds of thousands of African-American and Latino voters the opportunity to support the candidate of their choice," Camara writes.
If you look at the voting age population the Department of Justice would be looking at when they review Voting Rights Act-protected districts (the judge's plans wouldn't be reviewed by DoJ), Mann's maps would make Towns' district 51.5 percent black and Clarke's district 51.3 percent. Compare that to the Assembly's (51.9/51.6) and the state Senate's (52.9/51.1) maps for Towns and Clarke respectively.
So what would Camara have the judge do? "...Coney Island would more clearly benefit from inclusion in the new NY-9," he writes. "NY-9 could move south from the neighborhoods of Flatbush and Midwood, adding Gravesend and Coney Island. Eastern Parkway could then serve as NY-9's northern border."
The Assemblyman then suggests Towns' district would "take back in Fort Greene, Clinton Hill, Prospect Heights and southern Williamsburg, communities that were inexplicably removed simply to accommodate the addition of Coney Island."
Without a new map, it's hard to know how that would effect the delicate balance happening to keep both districts black majority districts. One thing is certain: we're told we can expect more push back on the judge's lines in the coming days as black and Latino leaders mobilize for what they see as an unfair process.
Camara's full letter is after the jump.
Pub-Assemblymember Karim Camara Chair NYS Black Puerto Rican Hispanic Asian Caucus- Response to Court Propo...