New York City officials' record-breaking first day of same-sex marriage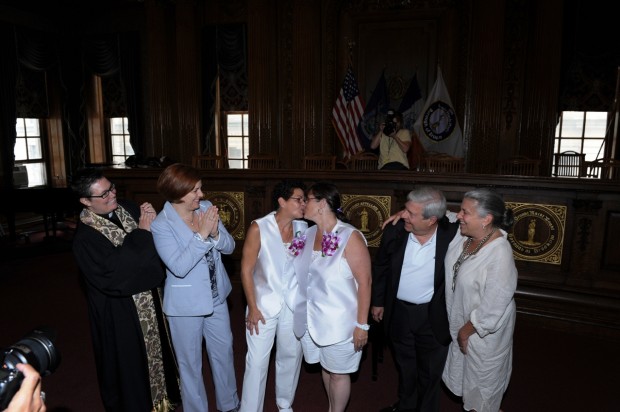 The state's first day of same-sex marriage didn't go off without a hitch--659 of them to be exact (zing!).
Mayor Bloomberg's office announced that one-day record-breaking feat was achieved yesterday as same-sex couples across the city took advantage of the new law.
"Today was a historic day in our City, and we couldn't be prouder that on the first day that everyone in New York City could have their love affirmed in the eyes of the law, we were able to serve everyone," Mayor Bloomberg said in statement.
Manhattan performed the most ceremonies by far with 365. Brooklyn was in a distant second at 121, and more than half of those couples stopped by Brooklyn Borough Hall and the office of Marty Markowitz, the borough president.
"I wish these couples as much happiness as my wife and I have been blessed to share," Markowitz said in a statement. "This is a historic day in New York, and seeing these newlyweds—their smiles, that twinkle in their eye—that says it all."