Councilman's police "detainment" could give push to stop-and-frisk challenges
Video of Foy being tackled by police can be seen below.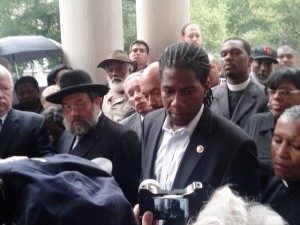 Colby Hamilton / WNYC
The day after being handcuffed and detained by the New York City Police Department, City Councilman Jumaane Williams and an aide to Public Advocate Bill de Blasio, Kirsten Foy, held a packed press conference outside of City Hall earlier today. Backed by at least a dozen elected officials, Williams stated bluntly race was what led to the incident—not an attack on a police officer, which the councilman called a lie.
"We do have to acknowledge that if I did not look the way I look—young, black, with [dread]locks and earrings, with another young black male—if we were elected officials of a different persuasion, we are sure things would have been handled differently," Williams said.
Williams said the police commissioner assured him there would be an investigation of the incident. That didn't stop speaker after speaker from drawing the connection between the incident yesterday and the police department's stop-and-frisk policy.
"The commissioner will say that he does not want people to take the actions of a few bad police officers and take that to mean that all police officers are bad," Williams said. "We would ask the same: do not take the actions of a few black and Latino young men to mean all black and Latino young men are bad."
Foy, a minister and former leader in Reverend Al Sharpton's National Action Network, urged the focus to be on the larger need to reform police policies like stop-and-frisk. "I'm not here to beat down on the police," Foy said. "I'm here to make them better."
The event provided an opportunity for long-time opponents to the stop-and-frisk policy to urge reforms. City Councilwoman Letitia James noted during her remarks that she had asked for hearings to be held inside the council on police policies to no avail. City Council Speaker Christine Quinn also spoke, calling the incident "distressing" but did not voice the same critique of stop-and-frisk heard by the other speakers.
Quinn enjoys a close relationship with Mayor Michael Bloomberg and Police Commissioner Ray Kelly. As one person pointed out after the press conference, challenges to the stop-and-frisk policy from the council would have to pass through a speaker not eager to anger the mayor. With publicity on their side, Williams and others opposed to the policy will likely use the outrage over his detainment as leverage with the speaker.
Here's the video from the incident: