Cuomo takes a swipe at lawmakers over redistricting
This article's been updated.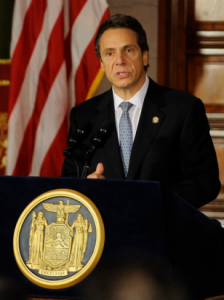 Courtesy of the Governor's office.
Governor Andrew Cuomo, appearing on Fred Dicker's TALK 1300-WGDJ show this morning, took a swipe at state legislators--in particular Democratic Senator Michael Gianaris--who have been vocally critical during this year's redistricting process. Dicker and the Governor were talking about news reports of a possible constitutional amendment deal when the subject turned to the language of the amendment.
Dicker mentioned the amendment details reported today in the Times-Union appear to be similar to those in a bill sponsored last year by Gianaris. It would have replaced the current legislative-controlled redistricting process with one where the minority parties had more of a say, among other things. The language of the constitutional amendment, as described by T-U and pointed out on this blog, is somewhat similar. Gianaris says he's opposed to a constitutional amendment that would keep the legislature involved in the redistricting process.
"There's been a lot of debate on a constitutional amendment, a lot of drafts," the Governor said. "I think Gianaris had something to do with the draft when he had a different position on the issue."
The comment elicited a chuckle from Dicker.
The Governor and others have been critical of legislators, and specifically Senate Democrats, for not being more proactive on the issue of redistricting when they had the chance.
"It's the convenient politics of the time, let's be honest," Cuomo said about the contentious debate over the process this year. "When the Democrats were in the majority, I didn't see them pass redistricting reform, right? They had the opportunity to do this. They're now all talking about how it should work--well why didn't you pass the bill when you were in the majority?"
Reached by phone for a comment, Gianaris said, "My legislative proposal was required by the constitution to have the legislature have the final say. The entire point about the constitutional amendment is that we could change that. So to actually enshrine in the constitution that the legislature would have the final say would be regress.
Cuomo also gave an update on the overall redistricting process, and the talks happening to reach a consensus: "Basically, we're nowhere."
He went on to further discuss his position in the process, which other blogs have picked up on:
"If there were acceptable lines—not the current lines, which are unacceptable—if there were acceptable lines, and if there was a real constitutional amendment, and if there was statutory language that could protect the people if the legislature changes their mind and doesn't want to pass a constitutional amendment, then that would be a possible resolution," the Governor said.