Cuomo honored amid pension battle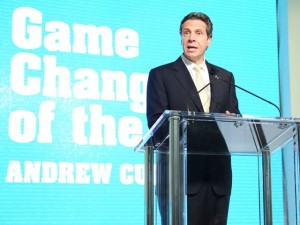 Even as Governor Andrew Cuomo accepts an award tonight for his austerity program in Albany, he's in the middle of a battle over his proposal to overhaul the state's multi-billion dollar pension fund. On one side it's been the Governor and a slew of business-backed groups, local elected officials—including Mayor Michael Bloomberg—and Republican state legislators. On the other, Cuomo has found a foil in Comptroller Thomas DiNapoli, who has been one of the most vocal defenders of keeping the public pension system public, backed by the unions and, to a lesser public degree, Assembly Speaker Sheldon Silver.
The Pierre Hotel—a classy, if a bit musty hotel at the eastern corner of Central Park in Manhattan—will host the Citizens Budget Commission's 80th Annual Awards dinner tonight. The non-profit think tank will use the opportunity to honor a man who has, over the past year, done more to advance its agenda than anyone else in New York: Governor Andrew Cuomo.
"He has articulated and pressed for many of the key items on the CBC agenda," said CBC's president Carol Kellermann. "He is in many ways a spokesperson for fiscal responsibility, and the wise and prudent expenditure of tax-payer funds. He had an on-time budget last year, with no tax increases, and very few 'one-shots'—all very important items on the CBC agenda.
She went on to note that, this year, he's included even more of the group's agenda items in his budget, including pension reform, which has been "something that CBC was—until the stock market crash—virtually alone in advocating for."
"When it was time to decide who would win our award this year, there really was unanimity among the trustees on the executive committee that he was the logical choice," Kellerman said.
Cuomo accepts the award amidst what has proven to be arguably the most contentious issue he's taken on so far with pension reform. Cuomo initially wanted to semi-privatize the pension system by introducing the possibility for new employees to put their retirement savings in 401(k)-type accounts, though, lately, he appears to be softening on the idea.
However, the Governor has keeping the pension fund as-is "could literally bankrupt the State of New York," and that "[t]here must be pension reform in the budget." He still supports changing the benefits future employees will receive out of the pension, as well as the amount they contribute.
The Comptroller has responded to the pressure for change in the pension system by pointing to both the benefits of the system—its better-than-most-states level of funding, the safety in pooled capital for its investors, the ability to use the fund's investments to demand change from companies—as well as the fact the system is still rebounding from the worst recession since the Great Depression, and mostly intact. He's called using the current fiscal state of things to justify a long-term critical overhaul of the pension system "not the smartest move."