Future mayor hopefuls (mostly) criticize Bloomberg's State of the City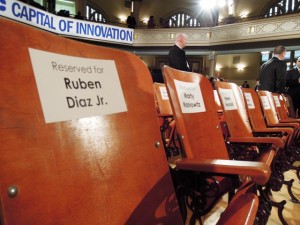 Colby Hamilton / WNYC
After Mayor Michael Bloomberg's State of the City speech at Morris High School auditorium this afternoon, elected officials began giving their post-speech reaction on the floor of the emptying auditorium. The mayor's hard-charging education plans, a new chance for developing the Kingsbridge Armory in the Bronx, and the Mayor's support for a minimum wage increase were at the top of lawmaker's minds.
Most of the likely mayoral candidates on hand lined up against the Mayor's educational plans. City Council Speaker Christine Quinn was the exception.
"I think the mayor's five point educational plan is very aggressive," said Quinn. Education dominated the speech, even as the tone of the Mayor's speech also turned aggressive towards the teacher's union. The Speaker went on to say that it's clear this will be a "signature issue over the next 12 months."
Public Advocate Bill de Blasio saw the Mayor's aggressiveness towards teachers was more like picking a fight.
"A lot of the content he raised was worth looking at and talking about," de Blasio said. "It's right to talk about how we make evaluations better, how we make the tenure system better. But why not talk about doing it cooperatively?"
Comptroller John Liu also took issue with the Mayor's tone towards teachers.
"It was apt that he spent such a large amount of time at the beginning talking about the challenges we still face in our public schools," Liu said. "[It was] somewhat surprising he spent a good deal of time criticizing teachers and almost throwing down the gauntlet against our teachers."
The mayor's education comments weren't the only hot topics after the speech. Manhattan Borough President Scott Stringer said the Mayor's support of a state proposal to increase the minimum wage was a step in the right direction.
"The minimum wage proposal is not enough to solve the problems of working families in New York City, but it's a good start," Stringer said. The minimum wage support and the restart of plans for the Kingsbridge Armory left some with the impression the Mayor was undercutting arguments in the living wage fight. The Borough President said he hoped that wasn't the case.
"I hope this is a larger strategy to give relief to working people in this city," Stringer said. "There has to be much more of a concerted effort to deal with the fundamental issues impacting working people."
Another Borough President, Bronx BP Ruben Diaz, Jr., who had been central to the living wage fight that scuttled the first Kingsbridge development plan, said he didn't see, nor support, a Kingsbridge proposal that didn't contain a living wage.
"If you're a developer and you know of the history of the Armory, are you really going to put in a proposal on this [request for proposal] without a living wage," Diaz asked. "It probably wouldn't be the smartest thing to do."