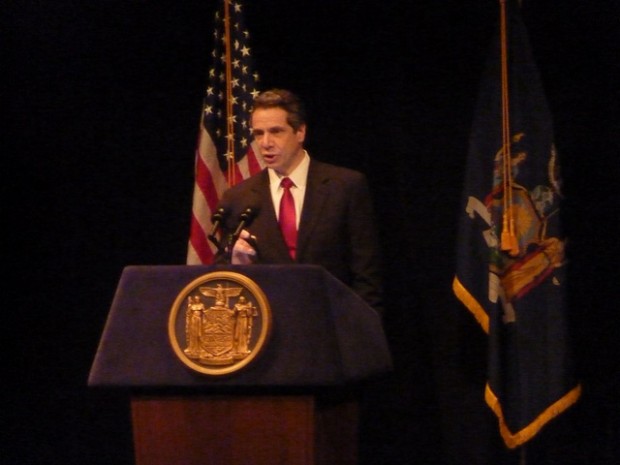 My story:
He equated it to Enron, said it defied logic and warned (or perhaps, promised) that fixing it would send lobbyists "running around the hallways like their hair is on fire."

New York's new Democratic governor said he wanted to replace formulas that called for annual double-digit increases to the state's most expensive programs, with more modest rates of growth, that also, for the first time, took performance into account.

By the end of his hour-long presentation Monday, Governor Cuomo had cast himself as a transformer: changing Albany's decades-old budget habits, and repositioning the state "nationally" as an economic destination for the private sector.
And
E.J. McMahon, a budet expert with the business-backed Manhattan institute, said eliminating the formulas was indeed a shock to the Albany system, but the rest of Cuomo's budget was not extraordinary.

The elimination of those automatic cost increases "'just drives people here crazy. I love it," said McMahon. He said Cuomo did nothing to empower school districts to cut program costs hoisted upon them. McMahon also doubted the Medicaid Redesign Team which Cuomo empaneled — which included legislator and organizations representing health care workers and hospital operators — would come up with any drastic changes to the program.

"That crew ,on that Medicaid Redesign Team, they may hit a target of 2 billion and change — they aint going to change Medicaid," said McMahon. "All right. They're going to find a way to get through this year, you know what I mean. That group, they putting the stakeholders in a can, shaking it up and seeing what comes out is not going to alter Medicaid for all-time. What it is, is 'I'm putting a gun to their head and saying 2 billion my way or 2 billion your way.'"