Ball strikes critical tone on fracking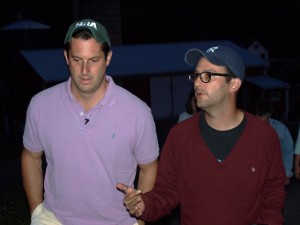 Republican State Senator Greg Ball of Patterson just sent out a notice about his tour of Pennsylvania with anti-hydrofracking activist and Oscar-nominated filmmaker Josh Fox.
"I want nothing more than to create jobs in New York. But I will not  roll out the red carpet for companies that are not willing to be held accountable," Ball said in the statement. "I saw beautiful communities booming with economic activity. I also heard horror stories from families and farmers who've suffered health problems, lost livestock and seen a 90 percent devaluation of their homes and properties."
Ball's hosting a local forum on hydrofracking next week, and, with his Tea Party base of support, appears to be developing into an unlikely opponent of the natural gas drilling process.
Check out the long list of "tour findings" he says he expects to raise next week and in the debate about fracking in Albany:
Lack of full disclosure about proprietary chemical formula used in the fracking process.
Lack of protection for workers at drilling sites from fracking fluids and waste.
Lack of land owner understanding about lease agreements and royalties.
Lack of third-party chemical testing for contaminants in land owner's water
Lack of responsiveness by companies to pay for damages involving lost value of property as a result of contamination of water and soil, lost productivity of land, lost livestock and crops.
Lack of local employment by the drilling companies (Chesapeake Energy). The workers at the Chesapeake site rigs were transported into Pennsylvania from Texas, Louisiana and Connecticut.  Reason given is because it's too costly to train local citizens.
Seemingly aggressive unethical sales practices used by the companies "land man" to encourage land owners to sign leases.
Lack of sharing of information on contamination between land owners.
Lack of air quality and social monitoring.
Lack of process to respond to or to Insure against devaluation of land owner's property.
No presumption of causation by the companies, they seem to be able to easily deny damages to water, soil, lost value of property and lost productivity.
Absence of environmental impact analysis process
No disclosures or warning statements on lease agreements concerning the financial, health and environmental risks of hydrofracking.
Lack of full disclosure of past violations and spills by companies.
Lack of commitment to remediate soil and water upon contamination.
Lack of water from trusted governmental third parties instead of companies.
Lack of regulations on campaign contributions to chairs of environment committees in state government.
Lack of fine or penalty structure in response to contamination of water and soil.
Lack of evacuation plan for local EMS.