Teachers Raise a Ruckus Outside Capitol
Teachers gathered on the lawn of the state Capitol today to protest Governor Cuomo's proposed budget, which would cut close to $1.5 billion from education.
The protest is part of an ongoing P.R. battle between advocates and the Cuomo administration, as they vie for support from the public and lawmakers.  Meanwhile, the budget clock keeps on ticking - 10 days until April 1!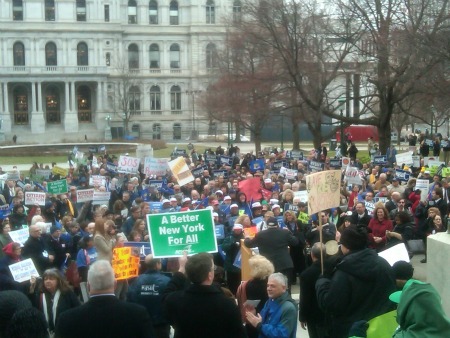 Karen Dewitt caught up with NYSUT President Richard Iannuzzi for this quick Q&A:
Q: Cuomo's lecture that he delivered last week, he said it's all a game. It's an empty threat, you're playing a game. Schoolchildren aren't going to be hurt if he cuts the school aid.

NYSUT: When you look out at the people who are demonstrating here today, the teachers, the parents the children, you see the thousands that showed up, a thousand in William Floyd on Sunday, 500 in Watertown, a thousand in Binghamton, all over the state. It's teachers with parents and children talking about whats being taken away from those children. This is not a game, it's serious business. I know the governor understands its serious business. We have to get to a budget that takes care of New Yorks children.

Q: Are there savings that could be achieved through efficiencies as he said? Cutting administrative costs?

NYSUT: I am in total agreement with the governor, that efficiencies in the administration, efficiencies in terms of what can be done at the local level must be looked at, but our position is that with those efficiencies and with the kinds of things that have been going on that have tried to share the sacrifice, there will still be a gap and that's the gap that has to be filled, remains unfilled. And the only way that gap is going to be filled is with the choice of revenue and those revenues are the millionaires tax.

Q: Is the $200 to 300 million that the legislature wants to restore going to be enough? And do you think thats going to happen the way things are going?

NYSUT: Well we very much want to say thank you to both the Assembly and the Senate in terms of starting the process, but clearly the two house bills that are out there now are not enough. And what we have to do is to get to a combined budget with larger numbers that winds up on the governors desk and then Im confident that the governor will make the right choice.

Q: Would it be ok with you if the budget was late, would it be worth the wait to get more school funding in the budget?

NYSUT: A better budget is always the right choice rather than a budget that lays off people, eliminates programs and hurts kids.