Liu: We have their signatures!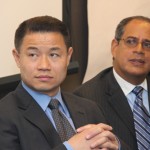 Courtesy of the comptroller's office/Paul Brumlik
In the wake of the (potentially) damning New York Times story this morning, New York City Comptroller John Liu appears to be ratcheting up his defenses. According to WNYC, the comptroller says he's able to prove real human beings gave his 2013 campaign money of their own free will--regardless if the Times says:
"We have copies of signed checks, and signed donor forms by each of these donors," Liu told WNYC on Wednesday. "It's unclear to me how the interviews were conducted by the Times. Nonetheless the donors in question will be further reviewed by my campaign."
Some whispered rumors already being floated are that this could sink Liu's mayoral bid, and perhaps even worse, result in legal action. Of course, if Liu can prove his campaign donations are on the up-and-up ultimately, he'll look like the target of some shoddy reporting and maybe even make him a stronger contender for the mayoralty.
When these numbers came out back in July, Empire plotted them on a map so you could see who was giving what and where. I'm relaunching the map below--see if you can find the questionable donations!