Senate R's pining for an Orthodox Jewish district, but at what cost?
[Note: There were a number of errors in an earlier version of this article, including the misspelling of Congressman Bob Turner's name. They've been corrected and I apologize.]
In a month, voters in the 27th State Senate District in southern Brooklyn will go to the polls for a special election to replace former senator Carl Kruger.
This race has generated a considerable amount of interest in what would normally be a sleepy off-season political event. But Senate Republicans are making a strong run for the seat, buoyed by the strong showing in the Brooklyn side of Congressman Bob Turner's district, which he won in a special election last fall. That Brooklyn slice just happens to represent about half of Senate District 27.
They've settled on David Storobin, a trial attorney and vice-president of the Republican Party in Brooklyn, emigrated from Russia two decades ago. He's reflective in many ways of the young, Russian Jewish population Republicans are hoping to mobilize on Election Day.
On the Democratic side, the man who had long been seen as Kruger's likely successor, City Councilman Lew Fidler, was chosen to keep the seat in the "D" column. Early on the Fidler campaign stirred up controversy by suggesting Storobin had ties to neo-Nazi and white supremacist groups. He later backed off that line of attack,saying he never called his opponent a neo-Nazi, while Storobin's campaign has used it as a rallying cry. At least some in the Orthodox Jewish community appear to be listening.
Behind the rushed campaigning of this special election has been the impending redistricting process. No matter who wins the special election next month, they'll be running again later this year in a district that will likely look very different than the one they win in.
Senate Republicans have made it clear they want to carve out a conservative Orthodox Jewish district, one they believe a Republican can win and hold.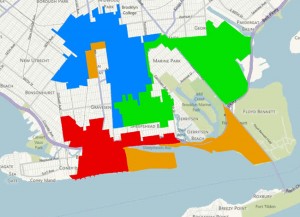 The first draft of the senate maps appear to divide the current district up into four parts of four other districts—and neither candidate is currently living inside the proposed lines.
Regardless, a Storobin win would likely see the candidate either living in or moving into a district that was specifically carved out in the hopes of attracting conservative Jewish candidates that Senate Republicans hope will win on their party line.
But carving out two districts that are perceived to be Republican-friendly carries some risk. Even with an additional seat upstate, each district has to grow and Brooklyn is by and large a Democratic-friendly borough.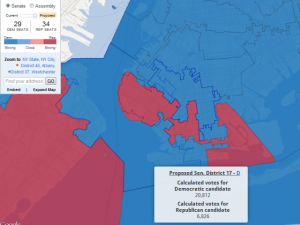 To wit, according to the analysis done by the CUNY Center for Urban Research and the New York World: Were Republican State Senator Marty Golden to run in his proposed district and receive what was cast in 2010 by the voters within those proposed lines, he would have received 1,225 less votes. When it comes to the Orthodox Jewish district, a theoretical Democratic candidate did better than three-to-one than a Republican in the CUNY/New York World analysis.
Indeed, the two new supposedly Republican-friendly districts would appear to divide the area that sits in what is now the 9th Congressional District which vaulted Bob Turner over his Democratic opponent last year. It remains to be seen if the divide-and-conquer strategy will actually help Senate Republicans. Who ends up winning the election next month might be a big step for either party hoping to win the new seat later this year.