Carvin out of US Senate race as Rep. Turner gets the gang back together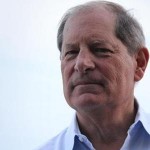 The New York State GOP convention is taking place in Rochester today. But before he could even get there, Rye town supervisor and prospective US Senate candidate Joe Carvin ended his campaign this morning.
"My number one goal in entering the race was to ensure that the Republican Party had a nominee capable of defeating Ms. Gillibrand in November," Carvin said in a statement announcing the end of his campaign. "But in the last several days - after Ms. Gillibrand was ranked the most left-wing senator in America by National Journal and after she voted for higher gas prices by opposing the Keystone XL Pipeline - I believe any of the candidates in this race can beat her."
The news is a boon for freshman congressman Bob Turner of (mostly) Queens. Not only did he lose a competitor, but he got back the team who had helped him win his surprise congressional victory last September. Communications wizard Bill O'Reilly and his former campaign manager E. O'Brien Murray. Both had previously been doing work with the Carvin campaign.
Turner has been on an endorsement roll since announcing earlier this week. This morning it was announced the Queens GOP switched its backing from Nassau County Comptroller George Maragos to Turner.
"Bob has taken on the status quo and fought hard to reverse Washington's reckless spending," Queens County chair Phil Ragusa said in a statement. "We worked hard to help elect him to congress and we look forward to doing the same in his race for U.S. Senate."
The primary for congress is scheduled for June 26.