Cuomo receives award at HuffPo's 'Occupy SoHo'
Update: Photo slideshow added at the bottom.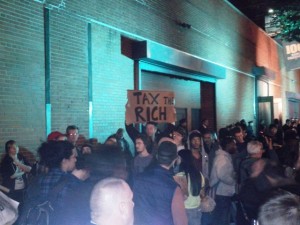 It was supposed to be a celebratory evening for Governor Andrew Cuomo. The liberal news site The Huffington Post was presenting the governor with its 2011 "Game Changer of the Year" award for his successful campaign to legalize same-sex marriage in New York.
Magazine cover celebrities and newsmakers lined up for pictures on the carpet at the entrance. Glasses of champagne were handed out to hundreds on hand celebrating the governor and 99 other leaders' work on various social, political and business fronts.
During his remarks, Cuomo spoke out against the death penalty, up for a woman's right to choose, and about the inevitable future of legalized same-sex marriage "from coast to coast."
But the other 99 -- the Occupy Wall Street "99 percent" protesters who'd shown up outside -- had a different set of talking point. The crowd of about 150 was mostly young, grungy and remarkably disciplined. They made up chants decrying the governor's support for hydrofracking and refusal to extend taxes on upper income earners.
After some initial back-and-forth with the police, the protesters agreed to move their picket across the street. They were violating a permit the Huffington Post party organizers had for use of the sidewalk.
Shortly after Cuomo's remarks some mid-level celebrity in sequence and high-heels ran into the middle of the street. A gaggle of dutiful photographers followed, flashes blowing. Traffic was forced to stop for the impromptu photo shoot.
The protesters, dimly lit by the cameras, continued to protest the governor who'd already left out the back.
Check out a photo slideshow of the event after the jump.
Courtesy of the Huffington Post/AOL. All photos by the Billy Farrell Agency.