Federal judge releases draft congressional maps--updated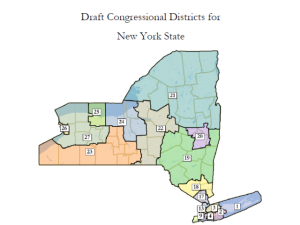 Courtesy of the Eastern District Court.
Yesterday, federal magistrate judge Roanne Mann held a hearing to review the proposed congressional maps submitted by the state assembly and senate, as well as groups like Common Cause. Much of the hearing was over the scope the parties hoped the judge would take--the legislative houses and others pushed the judge to make the scope narrower, to look at the existing districts as starting points, and to consider incumbency.
Well, Judge Mann worked fast: below are the draft congressional maps released by the court late last night. And as you can see the judge appears to have decided ignored both the state senate and assembly's draft maps for downstate districts.
Some highlights from the city:
The Asian community centered in Flushing would have an Asian-influenced district in Queens.
The seat occupied by Bob Turner would cross into Nassau, and would also take on the entire Rockaway Peninsula

--and pair Turner with Meeks (h/t Colin Campbell at Politicker)

Colin and I both stand corrected by Queens' own Evan Stavisky. Via Twitter: "Rep. Meeks' district was NOT combined with Turner. Turner's section of the Rockaways was just added to Rep. Meeks' district."

The Towns district stretches all the way to Coney Island.
Grimm's district would move further into Bay Ridge, picking up some of Sheepshead Bay in the process.
Maloney's district would gobble up the Williamsburg/Greenpoint neighborhoods in North Brooklyn, taking them out of Rep. Nydia Velázquez's district.
Charlie Rangel's district would remain in Manhattan, moving from the upper west to the upper east side of the island, but would continue the trend of being majority Latino.
It looks like the court decided to, more than anyone, blow up both the Turner and Ackerman seats.
Upstate, it looks like Buffalo, Rochester, and Albany all get their own individual seats. I'll update this post as necessary.
You can view the full set of Mann's maps here.
Here's the judge's plan (PDF viewer acting up, but will replace ASAP):