Blocking Cuomo from Endorsing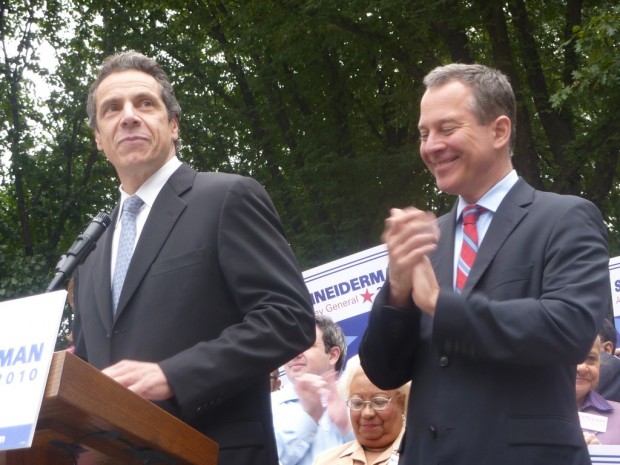 That was one key goal of Eric Schneiderman's successful attorney general campaign, according to aides who spoke at a roundtable yesterday.
Ben Smith's story is here.
My version:
Andrew Cuomo could have gotten the attorney general candidate he wanted, if only he had endorsed her.

That's the lesson from the post-election roundtable hosted by the New School yesterday, where aides to the six attorney general campaigns discussed their campaigns.

Blake Zeff, who worked on the winning campaign of Eric Schneiderman said they had internal polling numbers showing what the impact of a Cuomo endorsement would be on the race. "I would say somewhat hyperbolically, the poll showed us specifically that if Kathleen Rice got the Cuomo endorsement that we were done," he said. "She had so many advantages to begin with, the money not being the least, that [endorsement] would be nearly fatal to us."

Schneiderman aides said they never considered themselves in the running for Cuomo's endorsement, since Schneiderman was a member of the deeply unpopular state legislature. So the goal, Schneidmerman aides said, was denying the endorsement of the popular Cuomo from going to their chief rival.

"How do we stop Andrew Cuomo from endorsing Kathleen Rice?" was the question that "really informed a ton of what we did," said Zeff.