Liu pivots from pension risks to benefits for workers without retirement security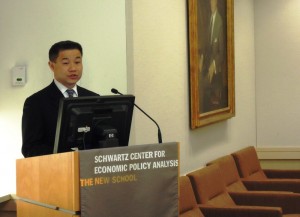 Colby Hamilton / WNYC
For a while, the conversation around pensions has primarily been focused on the cost and risk public pensions present to their fiscal backstops, the taxpayers. During this year's budget negotiations Governor Andrew Cuomo pushed for changes to the system for future public employees. They were needed, he said, because New York's state and local governments could not afford the system as-is. He was at least partially successful.
Now, the man in charge of the city's pension system, Comptroller John Liu, wants to change the focus on pensions, from the debate over their sustainability to a wider discussion about retirement security, and the positive role public pension funds could play.
On Monday, Liu joined Dr. Teresa Ghilarducci, director of the New School's Schwartz Center for Economic Policy Analysis, to promote an idea they say could help the 60 percent or so of New Yorkers currently without a retirement plan by allowing them to buy into the public pension system.
"Our city's already experiencing the beginning of a burgeoning retirement crisis," Liu said in his remarks before Ghilarducci's presentation. "If we don't help people prepare for their retirements now, the strain on the city's social service network from seniors living in poverty will be overwhelming. And clearly we are a city that does not, nor will we ever be, a city that will leave its seniors homeless or hungry in any way."
According to research done by the Comptroller's office and the Schwartz Center, the percentage of employers offering their workers a retirement plan fell from 48 percent to 40 percent in the last decade.  Within those numbers are a wide racial divide as well. While a little over half of white New York City workers had access to a retirement plan, only 38 percent of blacks, 30 percent of Hispanics and 26 percent of Asians had the same access.
The plan, presented by Dr. Ghilarducci, is similar to one moving through California's legislative process right now. It would allow employers to offer their employees a personal retirement account run through and by the city's pension system. The anticipation is it would guarantee a three percent return for the employees, but unlike the public pension fund, wouldn't leave taxpayers on the hook.
While today's proposal was presented in broad strokes—for example, the issue of whether employers would be mandated to offer the retirement account wasn't included in the presentation—Liu said it was part of an ongoing effort by his office to move retirement security policy forward.
"This is a subject that seems to be swept under the rug all too often. All the current dialog and debate about pensions is about cost and the fact that the cost is no long affordable, never about the need for pensions and retirement security," the Comptroller said. "We have to start stirring the debate on this issue and figure out what we as a city should do, conceptually."