AG Schneiderman on illegal gun purchase sting: 'Disappointed at how easy it was'
By Karen DeWitt, New York Public Radio Capital Bureau Chief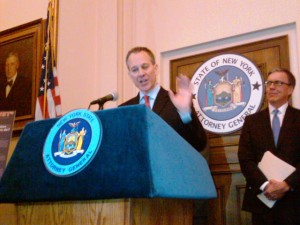 The state's Attorney General, Eric Schneiderman, says a statewide undercover operation found blatant violations of the state's law requiring background checks before the sale of a hand gun.
The AG says he sent undercover agents to six gun shows on Long Island and upstate. They posed as gun buyers with mental health or domestic violence issues, which under law are impediments to purchasing a hand gun. They found that despite disclosing those details, ten different gun dealers waived a background check and sold the agents a weapon.
"I frankly was surprised and disappointed at how easy it was," said Schneiderman. "No matter how aggressively our investigators asserted the fact that they could not pass background checks."
Schneiderman says under the law, those accused of illegally selling the guns can only be charged with a misdemeanor. He says he will soon propose a bill to stiffen those penalties and close other loopholes in the law.