Cuomo rating soars, as voters voice support for indy redistricting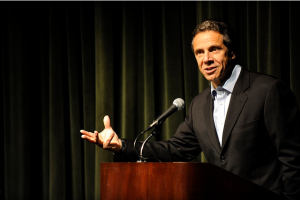 Courtesy of the Governor's office
A new Quinnipiac poll shows Governor Andrew Cuomo's approval ratings remain high, buoyed by a favorable response to his handling of the recent hurricanes and subsequent flooding.
Voters gave Cuomo an 86 percent approval rating for his handling of the Irene and Lee storms. His overall approval is at 66 percent, which Quinnipiac notes is "the highest score for any governor in states surveyed by Quinnipiac University and among the highest for any New York governor[.]"
"New York's love affair with Gov. Andrew Cuomo persists, perhaps helped along by Irene and Lee," said Maurice Carroll, director of the Quinnipiac University Polling Institute, in a statement. "Yes, we like him. Yes, we like his policies. Yes, we think he did a good job on the tropical storms. Yes, he's dominating the legislature. Maybe we should ask about his Queens accent."
Voters are also telling Cuomo they want independent redistricting, according to the poll. Of those polled, 50 percent say they want an independent commission to redraw political boundaries. But how's this for low expectations: even more--55 percent--do not believe the governor or the state legislature will keep their promises made during the 2010 elections to use an independent redistricting process.
"New Yorkers don't want the State Legislature to draw the district lines that decide where they and members of Congress will get elected. Half prefer an independent commission. Some think there should be some legislative say," Carroll said. "But most voters don't believe that New York's political leaders will keep their word.
"We chose a provocative word deliberately and almost half of the voters say they'd feel 'betrayed' if elected officials don't change the districting system."