The U.S. Nuclear Regulatory Commission (NRC) pledged to make the Indian Point nuclear power plant its top priority in its review of the seismic risk at 27 nuclear plants throughout the country.
At the request of the Cuomo Administration, the NRC has agreed to a cooperative review of Indian Point as a joint effort between the NRC and New York State.
The decision came after Lieutenant Governor Robert Duffy met with NRC officials today to discuss the seismic risks facing Indian Point, after new research shows the power plant could be more susceptible to earthquakes than first thought.
Since the crisis surrounding the Fukushima Daiichi nuclear plant in Japan, Cuomo has called for a new investigation of Indian Point's emergency preparedness and evacuation plans for the surrounding area.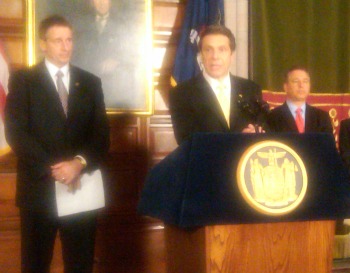 More from the Governor's statement about the NRC meeting:
As a result of the meeting today at NRC headquarters in Maryland between Lieutenant Governor Robert Duffy, Director of State Operations Howard Glaser, and top NRC officials, the NRC has also agreed to sign a memorandum of understanding that will:

Share federal data regarding seismic risk specific to Indian Point with New York technical experts.

Include New York experts as part of the NRC on-site inspection team that will evaluate Indian Point with regard to seismic risk.

In addition, NRC Chair Greg Jaczko has agreed to conduct a personal site inspection of Indian Point with New York officials.

"It is essential that the NRC move quickly to answer the significant and long-standing safety questions surrounding Indian Point," Governor Cuomo said. "We appreciate the NRC agreeing to move swiftly and we look forward to working closely with them on this issue to protect the health and safety of New Yorkers."

"I thank the NRC for hosting us today and for recognizing the legitimate concerns that exist regarding Indian Point," Lieutenant Governor Duffy said. "Seismic activity is a serious concern regarding the facility and we will now work with the federal government to make sure we get answers for the people of New York."

Indian Point is located in Westchester County, within fifty miles of where more than 20 million people live and work. Among its other structural and safety flaws, the facility is situated near a fault line and concerns have been raised about whether it was designed to withstand the seismic activity that could result from an earthquake.

Governor Cuomo has long been an opponent of Indian Point and has worked to prevent the federal relicensing of the facility. Governor Cuomo and senior officials will continue to work with the NRC to monitor the status of Indian Point and protect residents.