Silver says Occupiers aren't 'allies'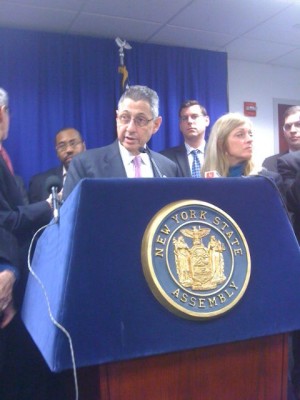 Anna Sale / WNYC
It's A Free Country's Anna Sale caught up with the man who might be proponents of continuing the tax on higher-income earners--the "millionaires' tax"--best bet.
But that doesn't mean Assembly Speaker Sheldon Silver is looking to march with the Occupiers any time soon:
"I don't consider them political allies," Speaker Silver said at a press conference at his Manhattan office on Thursday. "I think they make a point. Clearly they highlight a point of frustration among Americans."
Silver had a conference call with reporters later in the day, as well, where he reportedly defended the Governor against some of the negative sentiments of the protesters. The Occupy Wall Street protesters are encamped in Silver's district and the Speaker hasn't been too happy about it.
Putting distance between himself and the protesters likely helps the Governor, who opposes continuing the taxes. Speaker Silver has said he won't jeopardize the budget process over keeping the taxes, essentially giving up the one tool he had to force the issue.
It appears, at least for now, that the Occupy movement is without a true champion when it comes to the millionaires' tax.