9th Congessional District Special Election Coverage
Happy Election Day. Throughout the day we'll be updating this post with news from the campaign trail, as well as interesting info from around the web. We'll be with the candidates up until the race is decided so check back in regularly. You can also see the returns come in for the race here.

12:14 AM
From WNYC correspondent Yasmeen Khan
Turner supporters started the chant, "Yes we can!" -- a jab at Obama supporters. Turner quieted the crowd saying, "It's still me up here."
Turner is all smiles: "Maybe we started something," he said. "I sure hope so."
He says he starts work on Thursday
12:10 AM
From WNYC correspondent Yasmeen Khan
Turner has his whole family on stage and is giving a victory speech
12:08 AM
After giving the briefest of comments, Weprin headed straight for the door. Turner's victory speech is playing on the television as Weprin supporters followed Weprin's lead.
12:07 AM
From WNYC correspondent Yasmeen Khan
Bob Turner,  congressman, is introduced. Frank Sinatra's "New York, New York"is playing.
12:06 AM
Weprin arrived, gave a speech, said there were still thousands of ballots to count. He did not concede.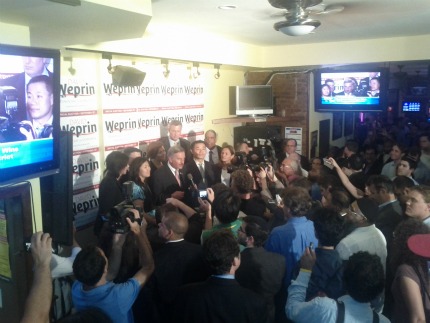 12:04 AM
From WNYC correspondent Yasmeen Khan
It's lots of cheering, chanting and high-fiving at the Turner camp with the news that the AP called the race for the Republican businessman
11:49 PM
The crowd is thinning here. The food's being pulled and faces are growing glum. Weprin's still nowhere to be seen.
11:48 PM
From WNYC correspondent Yasmeen Khan
There's a lull in speeches here at the Turner camp. People are milling about, and many supporters say they're in it for the long haul as the votes are counted.
Music is playing and restaurant staff are circulating another round of garlic knots
11:38 PM
The final piece in the 2013 mayoral poll is here: Public Advocate Bill di Blasio just arrived.
11:32 PM
Comptroller John Liu came over to talk to Councilman Weprin.
"It sucks," he said, responding to Liu's inquiries. "We had 1,500 volunteers and we couldn't get the poll results. I'm not used to waiting for the poll results from TV."
Yankees highlights appeared on the television. "How are the Yankees doing?" he asked. The Yankees scored a run. "Better than us."
11:25 PM
Manhattan Borough President Scott Stringer just walked in. This looks more like a 2013 mayoral meet-and-greet than a congressional election night party.
11:24 PM
From WNYC correspondent Yasmeen Khan
Jane Deacy is speaking now, saying her thank you's and giving her support to Turner.
"We are both citizen candidates, which is why we had such a great turnout at the polls," she said.
Like Turner, Deacy thanked 26-year-old Councilman Eric Ulrich for being a mentor throughout the campaign.

11:14 PM
Councilman Weprin is hanging around the press area at the Weprin party, trying to diving what he can out of the  results posting online.

11:09 PM
From WNYC correspondent Yasmeen Khan
Turner's speaking now, careful not to claim victory too soon."I'm the front guy, nothing more," he said, prompting another round of cheers.
11:05 PM
From WNYC correspondent Yasmeen Khan
Councilman Eric Ulrich, from District 32,  is at the podium now. "We made history, ladies and gentleman," he said, noting that in his own district Bob Turner didn't just beat David Weprin, he "kicked his ass."
10:57 PM
From WNYC correspondent Yasmeen Khan
State Senator Martin Golden, from Brooklyn, is getting the crowd revved up."Turner! Turner! Turner!" he chanted. "It's Turner Tuesday."He also gave a shoutout to Jane Deacy, saying she is up slightly in the race for state assembly.
10:56PM
Things can change in an instant. Polls reporting jumped from 20 to 24 percent and showed Weprin is now near 49 percent. Clapping ensued at the Weprin.
10:37 PM From WNYC correspondent Yasmeen Khan
Former Mayor Koch told the Turner crowd, "They say it's not over 'til it's over, but I'll bet they're not as happy on the other side as we are."
"I said we could turn this election into a referendum [on President Obama]. And we did. You did!"
Koch's biggest applause line: "Mr. President, Mr. President: listen to us!"
10:36 PM
Comptroller John Liu just showed up. It's turning into a Democratic Party who's who.
10:29 PM
From WNYC correspondent Yasmeen Khan
Assemblyman Dov Hikind, from the 48th District, is now speaking at the Turner party.
10:24 PM
Former NYC Mayor Koch is not getting a good reception at the Weprin party, as they show him speaking. "Look at him, that son of a bitch," one person muttered.
10:17 PM
Assemblywoman Grace Meng (District 22) is here. Her district out in Flushing overlaps with the 9th. She said she wanted to make sure her communities voice was heard in this race.
"It's important because Congress deals with a lot of national issues," she said. "We wanted to make sure they heard our voice."
Standing next to her was Adam Kim of the Asian American Coalition. He said they were backing Weprin because Turner wanted to dismantle the Department of Education.
"That is mind boggling to me," he said.
10:16 PM
From WNYC correspondent Yasmeen Khan
Former Mayor Ed Koch has arrive and is speaking.
The crowd just broke out into cheering & applause at the first flash of campaign returns on the big screen televisions. With less than 500 votes tallied, it's turner over Weprin, 55 percent to 45 percent.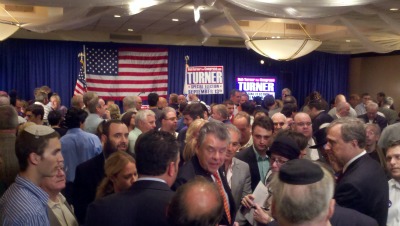 10:06 PM
Transit Workers Union members Alex Sheppard, Stephon Leonard and Amorette Shaw said labor definitely showed up for Weprin today.
"DC 37, AFSCME, 1707, TWU, building trades — it was amazing," Shaw said. The three stod in a back corner, nibbling on finger food.
"He's pro-labor so he's pro-us," Sheppard said.
Leonard, leaning over the table, said this race was just part of a larger battle.
"Everything is on the table," he added.
Speaker Christine Quinn showed up to the Weprin party. She was overheard saying, "What I heard from my volunteers was very, very encouraging."
"Now," she said, "we wait."
9:53 PM
As you can see, the results are beginning to trickle in.
9:48 PM
Congressman Peter King, who represents NY's 3rd Congressional District,  just arrived and the room started buzzing at the presence of the evening's first celebrity politician. Volunteers want to shake his hand, reporters want interviews and photographs.
Former Mayor Ed Koch is reportedly on his way.
9:40 PM
The mood here at the Weprin election night party isn't one of people waiting to hear about a surprise defeat. The food is out for the volunteers--lots of labor folks here--and people are in a good mood.
The Weprin folks told me there aren't any poll watchers, so we'll be seeing the poll results at the same time as everyone else.
Weprin himself isn't going to show up until the results are more or less determined. He'll be with the Queens Democratic county leadership until things are finalized.

9:38 PM
From WNYC correspondent Yasmeen Khan
Volunteers, donors and friends of Bob Turner are munching on hors d'oeuvres at the Roma View restaurant, while waiting for Mr. Turner to arrive."We're feeling good," said one woman, who volunteered today.Another volunteer, Mark Fish, stood alone drinking a beer and holding a campaign sign."I got involved to send a message to Obama," Fish said. He said he was not satisfied with the President's policies on Israel.Another couple, Donna and Jim Cafiero, said they have been volunteering with the campaign throughout."I went to bus stops every morning telling people to vote, Donna said. She also went door-to-door today."I tell people you don't even have to agree with me," she said. "Just vote."
9:32 PM
Councilman Mark Weprin is at the Weprin election party early. He said turnout in the district's democratic strongholds was "stronger than anticipated."
"People that know David the best turned out for him," he said.
9:01 PM
Polls have closed in the election that will determine who will represent the 9th District in Congress.
8:59 PM
Things got hairy for David Weprin before he even showed up in Brooklyn. The campaign had a scheduled stop at the Avenue U subway, but Turner volunteers, brandishing enormous posters of Ed Koch admonishing Turner – "David Weprin … Stop scaring seniors" – beat them there. It turned into a circus for a bit, with the "protesters" encircling Weprin at one point. Then Weprin got served papers, the contents of which we're still waiting to find out, and Congressman Gary Ackerman showed up and chastised the Weprin folks for even being in Brooklyn.
I rode around with the Weprin campaign after the stop, out to the Sheepshead Bay stop. People weren't terribly excited to see him. One woman, with a thick Russian accent and skinny as a rail, said she was voting for the other guy because he was bald. Another man said his Jewish family lived in the same neighborhood as Bob Turner, Breezy Point.
"So what are they one of the five Jewish families living there?" Weprin asked.
"See," the man said angrily," that's why we're not voting for you." He apparently didn't appreciate the dry humor.
In the car headed back to Queens, Weprin flipped through the radio stations looking for news broadcasts. He talked about how he felt the media hadn't been fair to his campaign, failing to pick up on Turner's flubs – not knowing the difference between the deficit and the debt, for example – while he felt he'd been unfairly hammered for similar slip ups like not having the extra ten trilling in debt added when asked what it was by The Daily News.
The aggressive last push by the Turner campaign – jamming the Weprin camp's phones, serving him papers in public – actually helped energize his campaign, Weprin said.
"In the end, they energized our base. They made people take notice," he said.
Most of the conversation, though, was running down the campaign talking points on Medicare and Social Security. He felt confident the unions and electeds supporting him would be the difference.
There were long moments of silence. Weprin held a speech — which speech ? — glancing through it. The radio news talked about the Phantom of the Opera and the President's jobs bill. Nothing came on about David Weprin.
8:50 PM
Earlier this evening Turner campaign volunteers were at the Avenue U station when David Weprin was there. You can watch below.

8:2 1PM
From WNYC correspondent Yasmeen Khan
While the focus has been on the 9th District, there are other special elections and primaries taking place today.
Jane Deacy, republican candidate for state assembly in the 23rd district, is greeting voters near P.S. 232."It'll be over tomorrow — no more campaign calls, no more mail," Deacy assured one woman.
Many voters in the district have complained about the amount of campaigned literature and the number of robo calls they've received."Thanks for voting!" Deacy said to another passerby.
"I brought my secret weapons," she said, pointing to her three adult daughters as they divvied up campaign flyers to pass out.
"Aren't they gorgeous? "

8:06 PM
Standing outside of the Avenue U subway stop earlier this evening, a man handed David Weprin papers, telling him he'd been served. When Weprin got inside the car after the Avenue U stop, the candidate said he knew the Turner campaign would be serving legal papers today, he just didn't know when.
The contents of the papers are being reviewed by the campaign staff before Weprin makes any official comment.
7:44 PM
From WNYC correspondent Yasmeen Khan
At P.S. 232, the turnout has been better than usual for a special election. The school serves as a polling site for eight election districts in the Lindenwood neighborhood of Howard Beach.One woman said she's surprised she even came out to vote, given how bombarded she's been by campaign calls and mail. She said she received at least six calls today alone. She said she voted for Turner.Another woman said, "nobody wants a republican in congress, but I had no choice." Both she and her husband voted for Bob Turner, saying that Weldon was a weak candidate.One man, named Lenny, said he came out to vote because it's his civic duty. "I was born on election day," he said, underscoring his commitment.
Lenny said he voted for Weprin, specifically to cast a vote against bob turner.
"The Tea Party makes it sound like we're back in the Revolutionary days, cutting social security and things like that," he said.
6:45 PM
Congressman Gary Ackerman showed up at the Avenue U station. He didn't look too happy about the location in Brooklyn. Maybe he thought they should be in Queens.
Also Turner campaign volunteers  were on hand to tout their candidate, as Weprin was at the station talking to potential voters.
6:22 PM
From WNYC correspondent Yasmeen Khan
The site coordinator at P.S. 63 in Ozone Park says turnout has been good for a special election and she expects a steadier stream of voters as people get out of work.
Grace Addabbo, mother of State Senator Joe Addabbo Jr., said she voted today, as she does with every election, out of a sense of civic responsibility — that and "my son would kill me if I didn't vote," she said.
Two women leaving the site said the democrats have held the 9th congressional seat for too long, and they wanted change.
Another couple said they were happy with Anthony Weiner, and voted for another democrat.
5:50 PM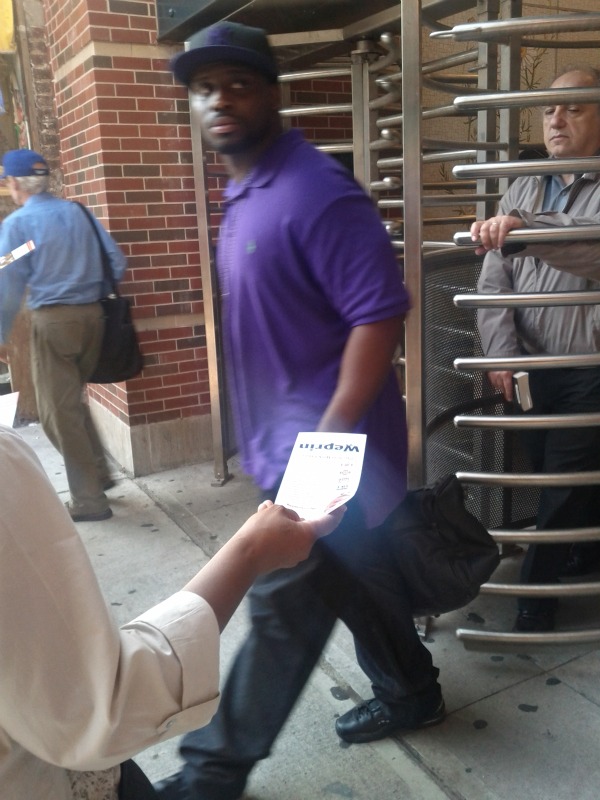 Outside the  Avenue U station in Sheepshead Bay, the NYSUT Teacher's Union was handing out Weprin flyers.
5:14 PM
From WNYC correspondent Yasmeen Khan
More than 180 people had voted at the Queens Library in rockaway beach by 4 pm. On an average primary day, the site would get about 50 voters total, according to one poll worker.
One woman attributed the steady turnout to the idea of "fresh blood" in the 9th Congressional District.
One man, who called himself a "union guy," said he voted for Weprin because he believes that Turner "doesn't understand what working class people are going through."
A supporter of Jane Deacy, a republican who's running for state assembly to fill the seat vacated by Audrey Pfeffer, handed out campaign flyers near the library. It was the only campaign paraphernalia near the site.
3:53 PM
From WNYC correspondent Yasmeen Khan
The turnout here has been steady, according to site coordinator Catherine Diffley. As of 3 PM, 200 people had voted.
What's motivating people to come out? "All the phone calls," said one man, who says he must have received 50 calls over the past two weeks.
Another woman leaving the polling site said she wanted to keep the 9th congressional seat Democratic.
"We are Democratic peninsula," Diffley said with pride.. and perhaps in defiance of the fact that Bob Turner, the Republican candidate in the race, lives on the peninsula's western tip.
3:35 PM

Middle Village is being called a key election district for the campaigns (see below). We wanted to get a sense of voter turnout here.
I visited three voting sites -- PS 49, PS 128, and PS 87 -- out here in the most Westerly portion of the district. It's a middle class but diverse neighborhood. Almost all the folks heading to the polls at this hour were elderly.
The poll workers in each poll had positive reactions when asked about turnout. Things were between average to above average in each of the polling stations, they said. At PS 128, 394 people had voted by 2 PM. PS 87 was up to 267 by about 2:30 PM. So the turnout is definitely beating low-ball expectations at this point it appears. All the polling stations were expecting the typical evening rush.
At the first polling location a retired couple, the Collumbs, were there to support David Weprin. Not so much because of him, they said, but because he was a Democrat (Chris, the husband, is a retired teacher). They both were nervous about Republican Bob Turner's stance on entitlements and made sure they got out to vote when they heard he was ahead in the polls.
At PS 49 down the street, Steve Iovino, a retired firefighter, said he was supporting Turner. He identified himself as an independent voter who was frustrated by Washington, and was impressed by Turner as a person.
As has been mentioned on this blog, the keys to victory for Weprin was mobilizing the Democratic regulars--union people like Chris Collumb--while Turner sought to tap into frustration with Washington that could bring people out for him. Both campaign messages appear to be working, at least here in Middle Village.
There was one interesting comment made by a poll worker at PS 128. She said many of the voters she'd talked with had said the same thing: If former Congressman Anthony Weiner had been on the ballot they would have been voting for him. If anything, this bodes ill for Weprin, as voters who supported Weiner might not be feeling as loyal to the new Democrat.
12:43 PM
The Weprin campaign sent out a statement claiming Turner's supporters were jamming phones--a tactic they say sent Republican ops to jail in 2002. From the statement:
At roughly 3:00 a.m. this morning, Bob Turner's Republican allies sent a mass text message to voters telling them to call the David Weprin for Congress campaign office in a blatant attempt at phone jamming. It appears that the recipients were not willing recipients of the 3:00 a.m. texts. This appears similar to phone jamming done by the New Hampshire Republican Party and a Republican consultant in Virginia in 2002 that resulted in the Republicans going to jail.
"Bob Turner's Republican allies are pulling dirty tricks in a blatant attempt to steal this election because they are afraid that Democrats' turnout operation will get voters who want to protect Medicare and Social Security to the polls," said Elizabeth Kerr, spokeswoman for the Weprin Campaign. "It is outrageous that Bob Turner's allies would resort to jamming our phones in an effort to prevent our campaign from contacting voters and getting out the message about how radical Bob Turner really is. Republicans participating in phone jamming in the past have landed in jail, and there must be a full investigation into the Republican phone jamming campaign."
No response yet from the Turner campaign.
11:03 AM
On the Brian Lehrer Show this morning, Ben Smith of Politico and Colin Campbell of TheBrooklynPolitics.com talked about the election. Below are some interesting points made by the commentators, as well as callers:
Ben Smith (Politico)
On the main issue in the race: "While there are a number of issues that are playing, like same-sex marriage to certain Orthodox Jews, the Israel issue is clearly in play—but when you look at polling in the race, it seems like the overwhelming issue is that Obama is very unpopular in the district and people aren't happy with the democrats, they aren't happy with the incumbents, they aren't happy with the direction of the country. This is the kind of district that Obama, if he were to lose next November, it's very hard to imagine him getting re-elected. It's a district Democrats regularly win, that Al Gore won, that John Kerry won, so it's one of a series of real kind of danger signs for the national Democratic party."
On whether Democrats want Weprin to lose as a "wake-up call" to the White House: "Every Gallup poll for the last six months has been a wake-up call, so I don't think the problem is that the White House hasn't woke up, I think it's that they're not sure what to do."
On what he heard from the morning's callers: "I think what you heard is a lot of Democrats saying they will reluctantly go pull the lever for the schmo, and Republicans who are really excited to go vote."
Robert from Fresh Meadows
On why he's voting for Weprin, even though he doesn't like him: "I feel a stake in it precisely because of all that will be read into it if [Weprin] loses."
Andrea from Kew Gardens
On the uninspiring Weprin candidacy: "I thought that the party bosses made a decision based on putting somebody into the race that potentially would not challenge whoever the incumbent is when the district collapses."
Michael from Queens
On the importance of this election for conservatives: "Over 90 years this has not been a Republican district, and I'm really hoping it is a bellwether and we're sending a message to President Obama and Democrats that indeed we care about the economic issues and we care about the socially conservative issues."
8:54 AM
Great review of the stakes and actors going into today's special election from Jessica Taylor at the National Journal. At the bottom are the key areas to watch for voting turnout and returns. We'll be heading to these areas later today:
Where to watch: Weprin - who lives just outside the district and can't vote in today's election -- needs to do well in the area's Democratic strongholds that went heavily for Obama in 2008 - Forest Hills, Rego Park, Fresh Meadows and Kew Gardens. If he's not winning at least three out of every five votes, it's going to be a long night for Democrats. Weprin's placed a heavy emphasis on these areas in the final swing, scheduling subway stops and senior center visits here to make sure his base gets out of the polls.

Turner's strong areas are likely to be his home base of Rockaway Beach, Marine Park, and Howard Beach, the site of his campaign headquarters. These areas have trended heavy Republican. These Irish, Greek and Italian Catholic areas went heavily for Sen. John McCain, R-Ariz., three years ago. Sheepshead Bay area in Brooklyn, a heavily Orthodox Jewish area, is likely to come out strong for the GOP nominee , too.

Where the deciding votes could come from: Middle Village, Maspeth and Glendale, where Obama and McCain split their votes. Turner's campaign canvassed Middle Village hard on Saturday. Weprin, in his capacity as a state assemblyman, attended a 9/11 memorial in Glendale on Sunday - even though official campaigning had been suspended, but everywhere along the side streets and businesses, Turner signs and doorknockers could be seen.