Cuomo delays state's fiscal reporting
By Karen DeWitt, New York Public Radio Capital Bureau Chief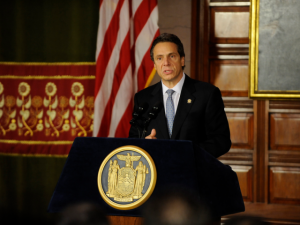 Courtesy of the Governor's office.
Governor Cuomo's budget office delayed releasing its annual mid-year budget report and future financial forecast. They cited uncertainties over the European debt crisis and delays in collection of some business taxes due to two hurricanes that hit the state in late summer for the delay.
The governor's budget office planned to hold preliminary hearings on next year's state spending plan during the first week of November. But the hearings have been postponed, as have the mid-year budget report and financial forecast.
"There are a number of factors that we're weighing, there's significant volatility in the market right now," said Cuomo. "We want to make sure we have the best information possible, because we're going to start to make real decisions based on this information."
Those decisions include how much to spend on key programs like school aid and health care, the largest portions of the budget. After Cuomo and the state legislature cut $10 billion dollars in last year's budget, they promised they would increase spending on schools and health programs by 4% in the next budget.
In addition, the cost of two devastating hurricanes that hit New York in late summer have yet to be tallied, says the state budget office. Cuomo estimates the total cost at more than a billion dollar, and granted business affected by flooding from the storms a delay in filing their quarterly state income taxes. Payments due September 15th were not received until November 1st.