Cuomo: New York Needs a Teacher Evaluation System by Year's End
By WNYC's Brain Zumhagen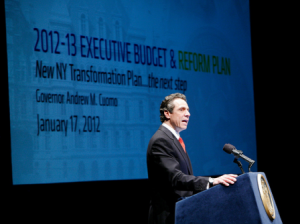 Courtesy of the Governor's office
Governor Andrew Cuomo continues to defend his plan to deny school districts additional state funding unless they put in place a method for evaluating teachers.
Speaking to reporters in Yonkers, the governor pointed out that U.S. Secretary of Education Arne Duncan has already threatened to withhold $1 billion in combined Race to the Top and other federal dollars from New York unless the evaluations are established. Cuomo said he can understand that teachers' unions have concerns about the evaluation system.
"I also understand that the students deserve it," the governor added. "The state said they were going to do it two years ago. The unions said they were going to do it two years ago. They haven't done it."
"The state can't afford to lose $1 billion in federal funds," Cuomo said.
The governor was in Yonkers Wednesday to present his budget plan to an audience of city officials and local high school students.
Meanwhile in New York City, Mayor Michael Bloomberg told reporters that he remains optimistic that his administration can reach a deal on evaluations with the United Federation of Teachers.
A spokesman for the UTF said the union's president, Michael Mulgrew, hopes the governor's comments will spur Mayor Bloomberg to return to the bargaining table.