Turner pats himself on the back for Park51 funding protest; Weprin gets FDNY union backing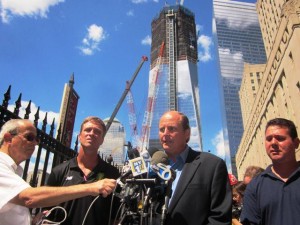 Late yesterday morning I received this in an email about a protest today.
FURIOUS NEW YORK CITY FIREFIGHTERS AND OFFICERS  AND 9/11 FAMILY MEMBERS WILL DEMAND THAT NO TAXPAYER MONEY GO IN TO THE CONSTRUCTION OF GROUND ZERO MOSQUE AT A PRESS CONFERENCE ON MONDAY, AUGUST 22ND  AT 12 NOON OUTSIDE ST. PAUL'S  CHURCH YARD AT THE CORNER  OF CHURCH AND VESEY  STREETS IN DOWNTOWN MANHATTAN.
The funds in question were part of a $17 million Federal block grant the Lower Manhattan Development Corporation received. Last September LMDC announced it was accepting applications from "not-for-profit and government organizations engaged in cultural or community programs or projects that benefit the residents, workers, and communities of Lower Manhattan."
In November 2010, Park51 announced it was applying for a portion of the funds on its website:
Park51 has applied for a Lower Manhattan Development Corporation grant which would in part fund social service programs for all the residents of Lower Manhattan such as domestic violence prevention, Arabic and other foreign language classes, programs and services for homeless veterans, two multi-cultural art exhibits and immigration services.
There were a few notes in the press at the time. As LMDC has not official announced who will be receiving the funds, there isn't any specific, recent event that might trigger renewed interest in the subject. Except. of course, for Republican Bob Turner's congressional race out in Queens.
Turner's been reviving the specter of the "ground zero mosque" withtelevision advertisements and regular press releases hammering his opponent, Democratic Assemblyman David Weprin, for supporting the project in the past. Last week Turner's campaign seized on the dormant issue of the Federal funds. "Not one penny of taxpayer money should be spent building that Mosque," Mr. Turner said in a statement last week.
The protest announced yesterday drew just three attendees. Not even Tim Brown, one of Park51's biggest opponents, was reportedly there but did not join the group.
"I'm comfortable now with them building their mosque here, I'm over that," said protester Jerry Sullivan, who lost his brother on 9/11. "But as a citizen of this country I do believe that we should have the right to ask our government not to provide them with funding."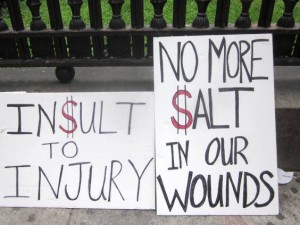 New York City Fire Department Battalion Chief Thomas Dolan, one of the protest organizers, turned the event towards the political after he claimed the Park51 developers had already tried and failed to secure Federal funding. "We can all rest assured that when they get their legal ducks in order, they'll be back to request these funds again," Dolan said. "And when they do come back and request the funds, we will have our elected officials be prepared to tell them 'no'."
Shortly after the protest was over, the Turner campaign sent out a statement:
The Ground Zero Mosque developer was quietly trying to make U.S. taxpayers pay for his project -- without them knowing about it.  I am pleased that I was able to bring attention to his outrageous scheme, and even more pleased to learn that brave New York City firefighters have taken up a call against it. Not a dime of taxpayer money should go to the Ground Zero Mosque, and, as a member of Congress, I'll do everything in my power to stop the developer's effort to get federal funding for it.
It is certainly arguable that Park51's as-of-yet undetermined application for Lower Manhattan redevelopment funds would not be something being discussed right now if it weren't for the Turner campaign. Request for a statement from Park51 weren't returned, but a spokesperson with the group confirmed they were not aware that a decision had been made either way about the funds.
There is one thing to specifically note on how LMDC will distribute the funds. There are 266 applicants for funds, and the process has been called very competitive. That being said, there is a requirement that bodes ill for Park51: verifiable non-profit status. The organization has applied for nonprofit status, but it is still in the application process. Given this, it seems unlikely Park51 will meet the requirements for funds.
In related but separate news, Weprin picked up the support of the firefighters' unions yesterday out in Queens.
"Firefighters put their lives on the line every day to protect New Yorkers, and we need leaders like David Weprin fighting on the front lines for us in Washington," said the firefighters' officers' union president President Al Hagan. "At every opportunity, David Weprin has stood up for firefighters--by supporting working men and women at every turn and fighting to protect the homeland security funding that ensures we can do our jobs safely and effectively. [W]e enthusiastically endorse David Weprin for the United States Congress."