City Council ends 'turban ban'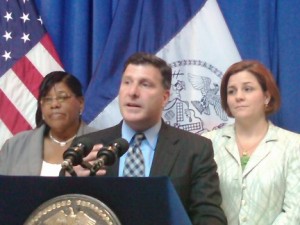 The City Council passed a measure this afternoon that changes the way employers can use exemptions for employees' religious observance, ending a so-called 'turban ban' in the New York City Police Department.
Currently, employers can declare the accommodation of a religious practice or expression to be a hardship, allowing them to deny employment or positions. The new law will raise the bar for what is considered a hardship, giving religious individuals more protections and forcing employers to try harder to find accommodations.
"The point of this bill is to make sure that, in the five boroughs, people who have particular requirements, as it relates to their religious observance…have the legal ability to do that in work," Quinn said in a press conference before the vote. The bill covers religious practices, such as prayer, as well as the need to take time off or wear religiously mandated clothing.
City Council Speaker Christine Quinn and Councilman Mark Weprin of Queens held a press conference today before the vote. The legislation amends the city's human rights law to be, as Quinn put it, "the most powerful and empowered human rights law it can possibly be."
Weprin, whose district in Queens is home to a large Sikh community, said the religious group's struggles with the MTA and New York Police Department highlighted the need for the legislation. "We had a lot of people say that they're not comfortable going to work for a city agency or other places if their religious belief says they have to wear a turban or a beard," Weprin said. "I personally feel that should be honored."
Both Quinn and Weprin acknowledged that the law does take into consideration working conditions that require specific practices or clothing—Weprin used firefighter's helmets as an example—that will likely meet the higher threshold.
Amardeep Singh, the co-founder of the Sikh Coalition, praised the legislation for making it "nearly impossible for an employer to make the false choice between a job they're qualified for and their faith." He said the law went beyond his community's difficulties with city agencies, pointing to similar difficulties practicing Muslims face honoring their religious requirements in the work place
As the tenth anniversary of the 2001 terrorist attacks approaches, Singh said that, while the legislation wasn't directly related to the discrimination Sikh's have faced over the past decade, it was welcome news.
"Given the Sikh community's experience in New York City since 9/11 it's really tough not to think about the anniversary and this not being a nice present to the community, even if that wasn't the intention," he said. "This is a way of closing the loop on that issue."