Cuomo calls on New Yorkers to volunteer in Irene recovery
By Karen DeWitt, WXXI Capitol Bureau Chief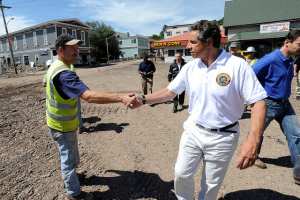 Governor Andrew Cuomo has launched what he's calling "Labor for your Neighbor", an effort to organize New Yorkers who want to help flood victims clean up from the damage over the upcoming Labor Day weekend.
The governor says his staff will set up staging areas to ferry volunteers into flood ravaged regions in the Catskills, Schoharie, and Northern New York, to help with the hard work of cleaning up the mud and debris left from the storm.
The governor says what's required is "old fashioned elbow grease, that is just a bucket and a mop and a rag and a broom and a shovel".
"Volunteers could be very helpful with that," said Cuomo.
Cuomo says he'll be out there himself helping over the Labor Day weekend. He is also asking New Yorkers to donate money for victims.
His staff has set up a page at the governor's web site to coordinate efforts.
The governor says he "does not anticipate" any state borrowing to help pay for the disaster clean up. FEMA will fund 75% of many costs, with the state and local governments sharing the remaining 25%.
Cuomo's Director of Operations Howard Glaser says the administration is asking the federal government to pick up more of the final 25% of costs. Cuomo says private insurance will cover many flooded homes and businesses.
Governor Cuomo also issued his strongest comments yet against what he calls "partisan bickering" in Washington over whether the federal government should spend the money to help victims of Hurricane Irene.
Some Republicans in Congress, including House Majority Leader Eric Cantor, have said that any disaster relief monies for victims of hurricane Irene should be offset by budget cuts in other areas.
Governor Cuomo, who has been working with federal officials for days to funnel aid to New York's flood ravaged regions, is increasingly annoyed by those sentiments. He says "enough with the partisan bickering" at what he says is "the expense of the people of this country".
"A person has three feet of mud in their home," said Cuomo. "There's no Democratic or Republican way to shovel the mud out of the house."
Cuomo says government should just perform it's "vital function" and finance what he says is an "urgent need". He says there will be plenty of time to "play the politics" later.