Queens Democratic organization taps Assemb. Grace Meng for Congress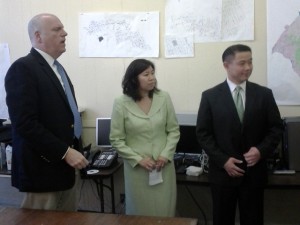 It must have been an amazing four days for Assemblywoman Grace Meng of Queens.
On Thursday March 15, late in the afternoon, 30-year incumbent congressman Gary Ackerman announced his retirement at the end of this session. She quickly let it be known she was interested in the new seat being drawn in Queens by a federal court—as did a number of other folks, such as Councilman Mark Weprin, Senator Tony Avella, Assemblyman Rory Lancman, Councilwoman Elizabeth Crowley and others.
The Queens County Democratic organization decided to take the weekend to talk with the candidates and their supports, but late yesterday the news leaked: the county organization chose Meng as their candidate.
This morning at Queens County Democratic headquarters in Forest Hills they made it official.
"It is rare in this business to meet someone like Grace Meng. She's hard not to love and she has character, commitment and confidence without a hint of arrogance—and in this business, that's rare," Councilman Mark Weprin said before officially nominating Grace to be the county organization's pick for the new 6th Congressional District.
"Grace, it seems to me, you are the future of the Democratic Party," said Senator Senator Toby Ann Stavisky in her seconding of Meng's nomination.
The future, past and present appeared to all be taken into account in the choice of Meng. In his remarks on the nomination, Queens County Democratic Party chairman and Congressman Joseph Crowley pointed out that not since Geraldine Ferraro had Queens sent a woman to congress (both Representatives Maloney and Velazquez have parts of Queens in their districts, but both live in other boroughs).
"To have someone from Queens running is incredibly important this year, especially when I believe women have been attacked so much in recent weeks," Crowley said.
And it's the growing Asian American community in Queens that opened up the door for a future potential Congresswoman Grace Meng.
"It really is, I think, time for the Asian American community to have this opportunity," said Crowley.
"Our greatest strength has always been our diversity," Meng said in her remarks after getting the nod. "Queens is famous throughout the world for diversity and tolerance. But really it's what we have in common that makes our neighborhoods work, our students succeed, and our families able to care for children and grandparents as they can."
Getting the county's endorsement won't mean Meng makes it on the ballot in November. At least one of the other candidates interested in the job, Assemblyman Rory Lancman, is still planning on running. He's scheduled a press conference for 3 pm this afternoon to officially launch his campaign for the job.
Congressman Crowley said he hopes the historical importance of Meng's potential election against whomever Queens Republicans run in November will dissuade Lancman and others from challenging her.
"Having an incredibly divisive primary will not be helpful to that cause," Crowley said.
Given the proposed district's demographic breakdown that seems unlikely. While the district's voting age population would be 60.1 percent minority voters, including the 38.8 percent Asian population in the district, it's still 39.9 percent white and most of those voters are Jewish. Democratic enrollment is high in the community, which could work to Lancman's advantage.