Redistricting analysis shows Assembly gerrymandering too, not surprising Kolb
Coverage of the redistricting process—including the coverage here--tends to focus on the state Senate. With the margin between the majority and minority party razor thin, overt attempts by the Senate Republicans to keep control are vividly evident.
But that doesn't mean Democrats in the Assembly aren't guilty of carving out election districts for maximum partisan benefit in the draft maps released last week.
In a presentation in Albany this morning, Common Cause's Susan Lerner presented a PowerPoint presentation that showed what they say are Assembly districts as egregious as some of their counterparts in the Senate.
In Queens, Common Cause found the conservative-leaning Middle Village area chopped up into four separate districts to keep Democratic officials in those seats, as is the case today.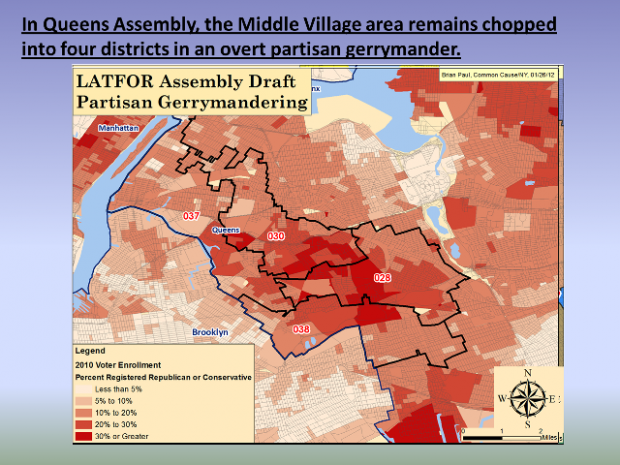 Courtesy of Common Cause.
Upstate, Assembly Democrats continue to divide up cities like Albany and Rochester to help dilute the impact of conservative voters. Rochester is divided into three separate districts, all of which are represented by Democrats. A similar situation is proposed for Syracuse.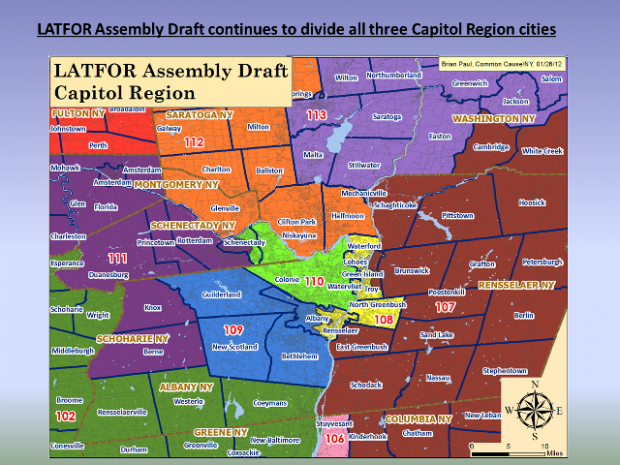 Courtsey of Common Cause.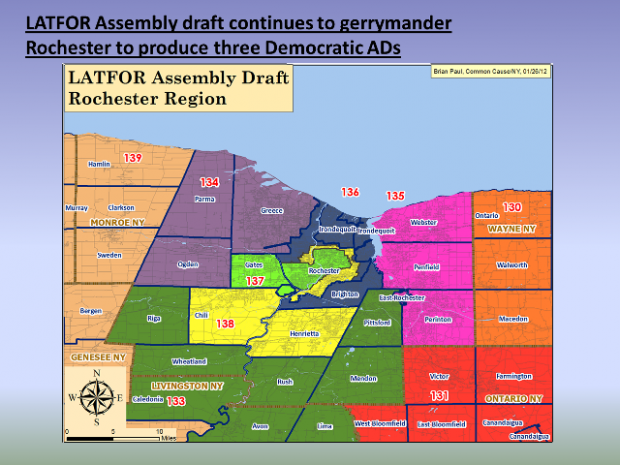 Courtesy of Common Cause.
The effect is not lost on Assembly Minority Leader Brian Kolb. He noted that the maps also shift a district downstate and force incumbents into one district.
"Certainly they do not have any of their members coupled against each other, which obviously doesn't seem to fair," Kolb said, who pointed out his members are being seeing districts that are over packed the same way as Senate Democratic districts.
"Hopefully this is a starting point with negotiations with the majority," he said.
The Minority Leader still counts himself among those committed to an independent redistricting process, even if it takes a decade.
"I've talked about it. I've cosigned on legislation. I've pushed for a constitutional convention, which would include a constitutional change to have independent redistricting. That's the process I really want," he said. "But unfortunately it looks like we're not going to have time to get there…If we don't get it now, as it doesn't appear we're going to, hopefully we can get this done for 10 years from now."