The Lede: Frack Fight, Pension Perks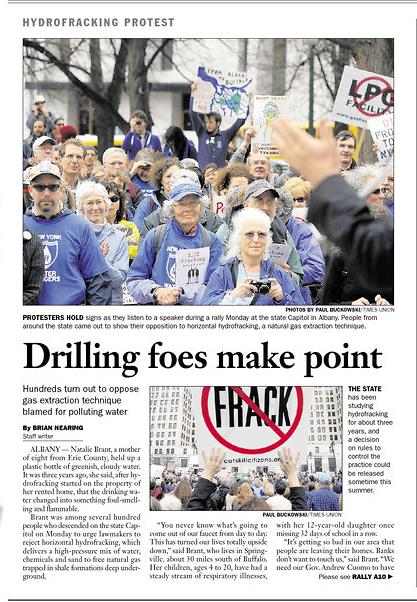 Drilling Protest:"You never know what's going to come out of our faucet from day to day. This has turned our lives totally upside down." (Albany Times-Union)
Local Frack Fight: "On the other side are the longtime residents, farmers and ranchers who own their mineral rights and stand to make a lot of money on leases and royalties." (Associated Press)
Rangel on Budget:"What [Obama has] done politically does not fit what I think should be done morally." (NY Daily News)
Grimm and Gillibrand: introduce versions of same property tax deduction bill. (The Hill)
Schumer on Illegal Prescription Drugs: wants to expand federal anti-racketeering to include trading in painkillers. (Buffalo News)
Cuomo on Assembly-Passed Rent Regs:
spox says "the governor supports an expansion of rent regulations, which expire June 15, but stopped short of endorsing the Assembly's proposal."
(NY Daily News)
911 Call in NYPD Rape Trial:
"The prosecutors said the officers placed the fraudulent 911 call from a nearby pay telephone so that they themselves could respond to the call, near the woman's apartment, which they entered four times that morning."
(NY Times)
NJ Politician Apologizes for Pay-to-Play:
Former Jersey City Council president "sentenced Monday to 2½ years in prison for accepting $30,000 in a cash-for-influence scheme run by a government informant posing as a corrupt developer."
(Associated Press)
Today:
Joseph C. Massino "will make history as the first official boss of one of New York's five mob families to break ranks and testify for the government."
(NY Times)
A Different Kind of Pension Reform:
"Lawmakers have introduced at least 55 pieces of legislation this year to give state workers more-generous benefits and allow governments to kick costs down the road."
(NY Post)
Record Homeless Count in NYC:
"In 2004, Bloomberg pledged to cut homelessness by two-thirds within five years but the number of people spending the night in homeless shelters hit a record of nearly 40,000 people one night in February 2011."
(Reuters)
Remembering Lumet:
"Sidney Lumet's chief preoccupation wasn't art. It was right and wrong in the American city, nearly always in New York."
(Boston Globe)