Rev. Al Sharpton Chimes In on LATFOR Grievances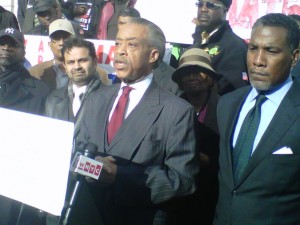 By Brigid Bergin, WNYC Producer
Community leaders, including the Rev. Al Sharpton, gathered on the steps of City Hall Wednesday to add their voices to the chorus of complaints about the redistricting mapsproposed by the State Legislative Task Force on Demographic Research and Reapportionment.
"We were promised that there would be reform in the process of how they redrew the lines," said Sharpton, "what we are seeing is deform rather than reform."
Sharpton described a process marked by "backroom" dealing motivated by "self interest."
"Why do we have to say we'll lose a black seat in Buffalo to have an Asian seat downstate?"
Sharpton called on Governor Andrew Cuomo to veto the proposed maps saying that the courts should decide on the lines. He also said advocates sent a letter to U.S. Attorney General Eric Holder asking him to review the process.
"New York is a voter rights state. It's not just southern states that are voter rights states," said Sharpton, "and nothing should transpire that does not have pre-clearance by the Attorney General."