Last night's other big winner: Opposition to hydrofracking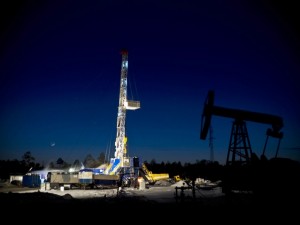 Shutterstock / iznashih
Last night was a big night for Governor Andrew Cuomo, who came out looking like the person who gained the most from big wins in Westchester, Erie and Suffolk Counties. But there was another major winner in last night's elections. It happened much further down ticket, in a series of local races in Central New York.
The message--louder in some places, but consistent--from communities that would constitute ground zero in the natural gas drilling boom, were hydraulic fracturing were to come to New York, was: Drilling is unwelcome here.
In the most watched set of elections happening in Otsego County, Democratic candidates for the county legislature, who had made this year's election a kind of referendum on hydrofracking, gained two seats in the Republican-controlled body.
While anti-fracking candidates were unable to gain control of the county legislature, down ticket candidates scored significant victories as town supervisors and board members. "We Won!!!" screamed the headline on the website for Sustainable Otsego, the group backing anti-drilling candidates across the county.
Outside of the more high-profile races in Otsego, races in other nearby counties--Delaware, Steuben, Sullivan, and Tompkins Counties, in particular--local candidates also won on anti-fracking platforms.
In the town of Dryden in Tompkins County, incumbents who had supported a ban on drilling were reelected. In Sidney, over in Delaware County, a coalition of anti-fracking candidates won the open two seats on the town board and the clerk's position.
Of course, it wasn't a clean sweep. In the towns of Mamakating and Liberty in Sullivan County, pro-drilling candidates won positions as town supervisors. And as the Sustainable Otsego website points out, 15 of the seats they were hoping to win were not. But with so many candidates clearly arguing against the drilling process and winning, the message from last night is that many voters in Central New York are opposed to the process.
And the person this affects the most is Governor Andrew Cuomo. As polls have shown, opposition to hydrofracking--something the Governor is not overtly opposed to--is strongest in upstate communities. If the message in last night's elections is relatively clear, so too is its target. Whether the Governor is receptive still remains to be seen.