Elected officials react to Cuomo's State of the State address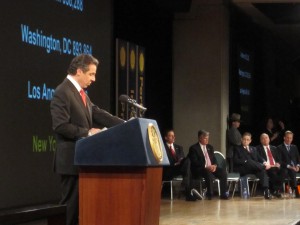 Governor Andrew Cuomo laid out his vision for New York State in 2012 and beyond on Wednesday. In a three-point outline that was led off by a set of economic plans and anchored by a proposal for a new convention center in Queens, Cuomo framed his sophomore effort in Albany.
"We've only just begun to do the work this state needs done," Cuomo said during a review of this past year's achievements. In 2012, the Governor said, education, jobs development, gambling legalization, energy, and pension reform as some of his top areas for improvement.
Assembly Speaker Sheldon Silver gave his comments before Cuomo spoke, arguing for a minimum wage increase and a tax cut for low-income New Yorkers. Afterwards the Speaker praised the Governor for a "great speech."
"I think he framed his agenda for this year and perhaps for a few years to come," Silver said.
Silver went on to say that "we need details" when asked if there were things he would have liked to hear in the State of the State. "He highlighted his agenda for next year," the Speaker said. "There are things I'm sure he has beyond what he spoke about today."
Silver said he had told the Governor about his plan to introduce legislation to increase the minimum wage. "He didn't have a negative reaction to it," Silver said, noting that New York's minimum wage is below that of more than a dozen other states.
Silver's counterpart in the Assembly, Minority Leader Brian Kolb, also praised the Governor, specifically his economic program, but like Silver was concerned about the details.
"I think talking about jobs, jobs, jobs is what we should be [doing]," Kolb said after the speech. "I think the devil's in the details about how we're going to pay for it."
Kolb went on to say he didn't feel the discussion about economic development had encompassed much of the state beyond New York City and Buffalo, and would have liked to have heard more about mandate relief from the Governor.
"There was a lot of good things in [the speech]," he said. "But I also think there's going to be a lot of controversial things in it as well."
Praise continued for the Governor on the Senate majority side, with Senator Martin Golden also focusing on the Governor's economic program.
"To get through this year we have to put people back to work," Golden said. He went on to say the Governor's major economic goals "make a lot of sense" and are "the right thing to do."
Golden's colleague on the other side of the aisle in the Senate, Senator Michael Gianaris, called the Governor's plans "ambitious" but said he expected nothing but that from Cuomo.
"I'm glad he's keeping his foot on the gas because there's a lot we need to do to keep the state moving in the right direction," the Senator said.
Additionally, the other statewide elected officials sent out statements broadly praising Governor Cuomo's speech.
Attorney General Eric Schneiderman said the Governor "laid out important steps" for the state in the year ahead, and looked forward to working with him to ensure "all New Yorkers are given a fair shake in these tough times."
State Comptroller Thomas DiNapoli said Cuomo was right to focus on the success of last year, while proposing new "measures to move us forward." He warned the state "not return to the fiscal gimmicks of the past" and praised the Governor's fiscal positions continue to "reflect the difficult economic realities we face."