Cuomo's poll numbers down, voters' support for ed reform is mixed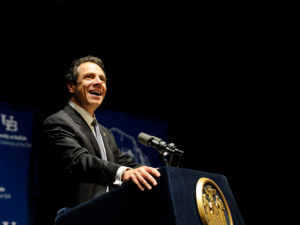 Courtesy of the Governor's office.
In the latest Siena College poll, Governor Andrew Cuomo's job performance and favorability numbers have slid, though they remain "the envy of any politician," according to Siena pollster Steven Greenberg.
Cuomo is viewed favorably by 69 percent of voters and unfavorably by 25 percent of voters surveyed. That's down from 74-18 percent last month, according to Siena. He retains a high job performance rating at 57 percent, though that, too, has dropped from 61 percent last month.
"While Andrew Cuomo's numbers are down a little from last month, they remain impressively high as he enters his 15th month as Governor," Greenberg said in a statement.
Voters may be responding to the recent battle over teacher evaluations. Those polled were split on the value of the teacher evaluation system being implemented across the state, with half of voters saying it will improve the quality of education. Fifty-seven percent believed the deal was fair to teachers.
Yet a plurality of those polled--45 percent--believe the Governor's actions has had no effect on the quality of education in the state, while 27 percent say he's made it more of a problem, and only 22 percent say he's improved it.
"A bare majority of voters thinks the new teacher evaluation system will improve the quality of education in New York, however, a sizable minority believes the new system will have no effect on the quality of education," Greenberg said. "Clearly voters do not see the issue of teacher evaluations as being the 'be all and end all' to improving the quality of education for New York"s public school students.
"Interestingly, while the Governor was publicly seen as a leader in the fight for the new evaluation system, education is one key issue area where voters are not giving the Governor high performance grades."
On the issues, voters are now evenly divided on the issue of legalizing gambling--48 percent support, 49 percent opposed--down from 52-44 percent support last month. The same can't be said for the creation of a new pension tier and the Governor's proposed convention center out in Queens: 66 percent support the pension reform, while 60 percent support the Queens convention center.
"A constitutional amendment to legalize non-Indian casinos in New York divides voters virtually down the middle. However, this is not an issue that divides voters by region, party or ideology. In fact, voters of every region, party and ideology are nearly evenly divided," Greenberg said. "Gender and age are more predictive of voters" positions, with men more supportive than women and young voters more supportive than older voters.
"Support remains strong – 66-29 percent – for creating a new pension system to save government employers money and ask future government employees to contribute more toward their retirement. Pension reform has the strong support of voters from every party and region, and even has majority support among voters from union households," Greenberg said. "The Governor"s proposed new Queens convention center also continues to enjoy two-to-one support, including at least 60 percent of voters from every region and party."