"I really don't know what he's smoking": Pataki presidential run rumors don't add up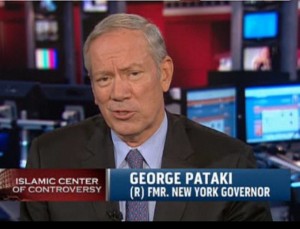 msnbc.org
As our sister site It's A Free Country reported earlier—and a number of other outlets have been speculating about recently—former New York Governor George Pataki is testing the water on a potential presidential run. With the national Republican field splintered and no clear frontrunner present, Pataki's entry would be as the saner centrist candidate. But few see either an opening nationally or a legacy as governor back in New York that gives Pataki a chance.
"George Pataki is an extremely nice man and he was a good governor for his first term," said political consultant George Arzt. "But to think, with his values, he would stand a chance in a Republican—in a right-wing Republican—primary, that is really ludicrous."
Those values as governor, as Gerald Benjamin, a professor of political science at SUNY New Paltz, noted, were likely to be seen more as liabilities than assets among Republican primary voters. "Having to come to term with the labor unions, his spending record, his record on social issues, suggest it would be very hard to get nominated," Benjamin said.
While the consensus is that getting the presidential nod—especially this late in the process—is near impossible ("I think all the other Republicans would have to be on a bus that went off a cliff," one person noted), other options were still on the table. The potential to counterbalance a right-leaning ticket with the Northeastern moderate Pataki could be a more realistic place for the former governor to end up. Likewise, taking out airtime in New Hampshire reminds any Republican candidate that, should they get elected, Pataki is there man for a high-level political appointment in their administration.
"That's the conclusion you're driven to," said Benjamin.
Additionally, there is no indication that Pataki has tapped his fundraising network, or that he has generated much interest inside the state party. Without funds or a base of support, a potential presidential run by Pataki will amount to little more than speculation by a former governor with not much name recognition or legacy to run on.
"I think he's really been invisible since he left office," said Baruch College political science professor Thomas Halper. "I don't even remember him being discussed when [Governor] Paterson was having all his problems. I don't remember anyone saying, 'Pataki, remember the good old days?'"