Was Turner's win a rebuke of Obama?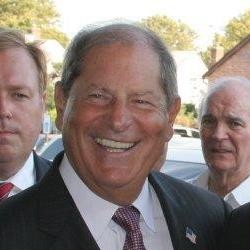 Morning! Looking to get a number of things posted, including rundowns of the other races last night, but really wanted to give a quick recap from last night.
While it wasn't a surprise, Bob Turner's upset victory over David Weprin sent shockwaves through the political world. National pundits are calling it a rebuke of Obama and a foreboding omen for 2012.
Certainly that's how the Turner people tried to paint it from Day 1: The special election to fill the seat vacated by Anthony Weiner was a referendum, and sending Turner to Washington would show the president people were fed up.
And they are. Let's be real--people in the 9th Congressional District are not jazzed about the Obama White House. But they never have been. Obama won there with only 55 percent of the vote in 2008. The only other New York City congressional district that had a lower return for Obama sent Republican Michael Grimm to congress. The district's been going red for a number of election cycles.
While I don't want to take away from the Turner win, it had as much to do with Obama as it did a weak Democratic candidate. Likewise, I don't want to kick a guy when he's down, but if the name Weiner had been on the ballot, this district would still be held by Democrats.
Weprin is not congressional material. Being a local assemblyman is one thing, but people vote for their member's of congress because of their personality. Anthony Weiner he is not, and voters knew it.
That's part of the reason he was picked by Queens County boss Congressman Joe Crowley. Weprin is a good party guy, who wouldn't rock the boat. But those traits can also lead to a lackluster candidate.
Before and after yesterday's election, Democratic insiders had lukewarm responses to the Weprin campaign. Throughout the race, he made a number of gaffes and let the race's narrative be dictated by the Turner people. He never moved off his talking points of Social Security and Medicare, even as Turner found new hot-button issues to hammer him with.
I wasn't a big fan of the campaign antics. But in the end Turner activated a base that was fired up and went to the polls, because they believed in what Turner was saying. No one went to the polls because they believed in David Weprin.
Lastly, while this might look like egg on the local Democratic Party--Long Island Congressman Steve Israel heads the party's national congressional committee, and Crowley heads the Queens county organization as mentioned--the reality is no matter who won, the district was on the chopping block. More on that in a bit.
So was Turner's win a rebuke of Obama? Eh. That's overstating it. The people who voted for Turner felt that way, for sure. But the Democrats--in some ways, on purpose--gave voters a milquetoast choice for the seat. With little to rally around, most Democrats stayed home. And, for at least the next 15 months, they'll now be represented by Republican Congressman Bob Turner.