Cuomo, Christie and other governors call on Feds for disaster relief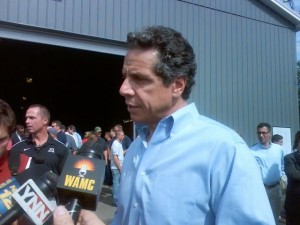 New York Governor Andrew Cuomo, New Jersey Governor Chris Christie, and the governors of Pennsylvania and North Carolina are calling on Washington to put aside politics and fund disaster relief for their states hit hard by recent storms.
"While the flood waters have receded and the storms are passed, the damage to communities, businesses and infrastructure remains significant. Billions of dollars in loss and destruction pose a serious threat not only to local and regional economies, but to the nation's economic recovery," the statement reads.
It goes on to point out that, after Hurricane Katrina in 2005, the Federal government was able to authorize $60 billion within ten days of the storm. It's been nearly a month since Tropical Storm Irene and the remnants of Hurricane Lee caused major rain and flood damage throughout the East Coast.
Federal funds have been held up in Congress. After a surprising defeat earlier this week, the House Republican majority was able to pass a bill that authorized $3.7 billion in disaster funds, only to see the bill defeated in the Senate earlier today.
In an interview with New York State Public Radio bureau chief Karen Dewitt earlier today, Cuomo called the issue "deadly serious" and said the state was not in a position to pick up the tab.
"This is the last issue they should play their politics with," the governor said. "It means the difference between living in a shelter and moving back into your home for some people."