DiNapoli wants gas companies to pay for hydrofracking contamination fund
By Karen DeWitt, WXXI Capitol Bureau Chief Governor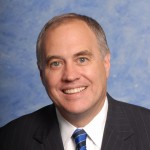 As New York state prepares to permit hydrofracking on some private lands, State Comptroller Tom DiNapoli says he's attempting to address a missing element so far in the state Department of Environmental Conservation's plans.
Under the current rules, if a homeowner's drinking water were to be contaminated by hydrofracking accidents, their only choice is to hire a lawyer and try to sue the gas company for damages.
"That could be costly and time consuming," said DiNapoli. "Because it is a private right of action, we don't really know how many accidents or incidents are happening right now with natural gas drilling."
The comptroller proposes setting up a fund, financed by fees on drilling companies, that could be used to pay for remediation should there be an accident at one of the fracking sites, or if chemicals leak to drinking wells and water is contaminated. The Comptroller says his office already administers an oil spill fund, the hydrofracking fund would operate under the same structure.
"It would make sense to have a safety net in place ," said DiNapoli.
The fund would cover damages from private or public water well contamination due to flaws in well casings, spills from traffic accidents with trucks carrying the used fracking water, which contains a mix of chemicals, and damage caused by well blow outs. The state Department of Environmental Conservation would investigate charges of environmental harm, as it does with the oil spill fund, and order any clean ups. The fund would be empowered to pay damages, and the state Attorney General, Erik Schneiderman, would have the power to take the recalcitrant parties to court recover those monies paid out
The proposal would also require an on line central registry of all gas drilling related incidents. Governor Cuomo, whose environmental agency would need to work with the comptroller on the fund, says he prefers to wait until a Department of Environmental Conservation advisory panel meets first.
"DEC has an advisory panel of some real experts in the area that I think represent a good cross section," said Cuomo. "And I'm looking forward to their recommendations."
The panel, which includes industry representatives as well as environmentalists including Robert Kennedy Jr, will be meeting for the first time later this month, although the meeting will not be open to the public.
The governor says he'd rather respond to a comprehensive plan after the panel has a chance for rigorous analysis, before he starts to respond to "individual ideas without a context."
Comptroller DiNapoli says he thinks his remedial fund could enhance the governor's environmental agency's plans.
"I don't think it's a conflict at all," said DiNapoli. "I think it's complementary."
A number of environmental groups endorsed the comptroller's proposal, saying it would "help protect New Yorkers". But they say they also want to allow an ongoing environmental impact process to be completed first.
The measure would require approval by the state legislature and a signature from the governor. So far, there are no Assembly or Senate sponsors.
Disclosure: Schneiderman's father, Irwin Schneiderman, is a member of the WNYC Board of Trustees and has been a long-time donor to the station.