Focus on hydrofracking harder for NYC residents ahead of public hearings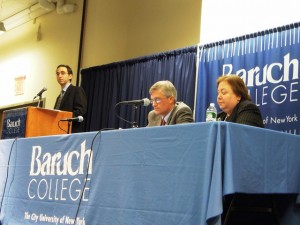 Last week's elections upstate elections were partially driven by the debate over hydrofracking. This week, the issue enters a new phase. As the Innovation Trail's Matt Richmond reports, the state's Department of Environmental Conservation begins its last round of public hearings that will guide its recommendations on the controversial gas extraction process.
The public will have a chance to comment on what's called the Supplemental Generic Environmental Impact Statement, or SGEIS, with the hopes of swaying state regulators. Joe Martens is commissioner of the DEC, the agency that is crafting the SGEIS. He says the thousands of public comments received on a previous SGEIS draft have resulted in changes.

"I'm confident that we'll make plenty of changes as a result of the input we get from the public this time around," Martens said, noting two major changes that came from previous public comments. One was a recommendation to prohibit drilling on state lands. The other was a safeguard for the Syracuse and New York City watersheds.

But environmental groups are far from satisfied.

"The state's proposal to oversee fracking is woefully inadequate and we need to make sure that our laws are updated, our regulations are updated and the state's environmental agency has the staff on the ground before any fracking is permitted in New York State," said Katherine Nadeau of Environmental Advocates of New York.

Nadeau says that lately the state has slowed down the rush to drill in New York. Recommendations from a drilling advisory panel have been delayed and the DEC won't have the numbers on how much it will cost to safely regulate fracking before the governor presents his budget for next year. Which means the DEC might not start issuing drilling permits until 2013.

These delays have started to frustrate pro-fracking groups. A new group called Clean Growth Now touts the economic benefits of fracking. Lou Santoni is a member and the president of the Greater Binghamton Chamber of Commerce. He says New York has spent enough time learning about the issue.

"We could talk about this for ever. And it seems like we've delayed this a year and then another year and another year. I think the time for action is now," Santoni said.

But for now, more talk is what's on the agenda. There are two more hearings at the end of the month, after this week's hearings. Public comment officially wraps up on December 12. Next up for the DEC will be a final SGEIS, then regulations--and only then, could the agency begin to consider drilling applications.
The final stop on the DEC's public comment tour will be New York City. Last week State Senator Liz Krueger and Assemblyman Brian Kavanagh hosted an event at Baruch College to get city residents engaged on the issue. About 30, mostly older people showed up, and a good quarter of those that did were connected to anti-fracking advocacy groups.
Politicians and speakers pushed those in attendance to tell everyone they know about the final public hearing DEC is holding on November 30 here in the city. While those few in attendance were plugged in to the issue, the reality is most New York City residents aren't.
In a September Siena College poll, 57 percent of city voters surveyed said they'd been paying no or only a small amount of attention to the issue. Only 33 percent of upstate residents said the same thing. And while 42 percent say they're opposed to the process (44 percent upstate), nearly 1-in5 said they don't have an opinion. In a more recent Marist poll from earlier this month, nearly one-in-four said the same thing.
Senator Krueger, who has stated her opposition to hydrofracking, said part of the disconnect comes from a lack of familiarity.
"We're not an oil drilling state; we're not a state that thinks about digging up from underground and what that will mean," she said.
She said her sister's family lives in Philadelphia, not exactly the epicenter of Pennsylvania's natural gas extraction. But the effects of the process have made hydrofracking a household word.
"If you ask them now, what about hydraulic fracturing in the [Marcellus] Shale, they go, 'Oh my God, it's destroying much of Pennsylvania,'" she said. "The bad news is if you wait long enough to have the horror stories, then everybody learns about it."
The turnout at the public hearing should give a sense of whether more city residents are making up their minds about the issue. The hearings will be held at the Tribeca Performing Arts Center on November 30, one during the day starting at 1 pm, and the other night starting at 6 pm.