Cuomo signs NYSUNY 2020 legislation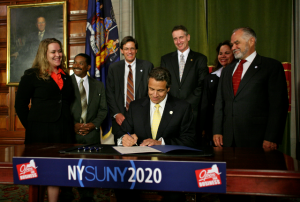 Governor Andrew Cuomo signed a bill earlier today that will allow SUNY and CUNY schools to increase tuition $300 a year over the next five years--and more for certain campuses--as well as providing $140 million in capital funds for campus construction projects
""New York State's universities are the jewel of our state's educational system, and with this bill the SUNY system will now be perfectly positioned to become the engine of economic growth across the state," Cuomo said in a statement.
The governor's office noted that, over the past two decades, the average annual SUNY tuition increase has been 6.7 percent, which, according to the statement, was well above the five-year, $300 increases included in this legislation.
"Today, in signing the NYSUNY 2020 bill, Governor Cuomo has instituted fair, rational, and predictable tuition reform in New York State, providing peace of mind for SUNY students and their families," SUNY Chancellor Nancy L. Zimpher was quoted as saying in the release.