Minimum wage debate pits business against labor, but does little for most New Yorkers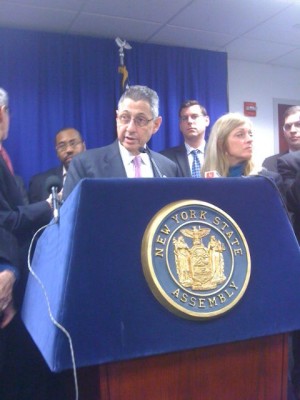 Anna Sale / WNYC
The debate over a proposed state minimum wage increase is heating up as Assembly Speaker Shelly Silver introduced legislation Monday to raise the base from $7.25 to $8.50 per hour.
"Last year we began the process to instill fairness in New York's tax code, and now we are addressing the inequities at the lower end of the pay scale," Silver said in a statement about the legislation. "It is absurd to expect anyone to afford the cost of living today and be able to invest in their future on a pay rate of $7.25 an hour. That is why it is my top priority this legislative session to repair the ladder to success, to make an investment in our working families and ensure that they can continue to do so as the cost of living continues to rise."
Labor is predictably lining up opposite business groups, with allied think tanks providing policy arguments sure to be used by their respective sides. (Mayor Michael Bloomberg is coming in somewhere in between.)
Labor vs. Business
"The legislation being introduced today is a small but important step that will help forge a path out of poverty toward the middle class," said Retail, Wholesale and Department Store Union President Stuart Appelbaum in a statement. "Raising the minimum wage in New York is morally right and economically smart: when workers earn more, they spend more, generating demand for new goods and services that will create more jobs and strengthen our economy."
Applebaum noted a coalition of labor unions, as well as the labor-backed Working Families Party, support the increase.
"The minimum wage proposal put forth by Assembly Speaker Sheldon Silver is ill-timed and shows a complete disregard for the private sector and the challenges Upstate New York faces in promoting private sector job creation," said Brian Sampson of Unshackle Upstate, who went on to say the legislation would increase unemployment among young and low skilled workers.
"Raising the minimum wage would only hurt New York's small businesses, farms and not-for-profits that are struggling to make their current payrolls, and reduce job opportunities, in this difficult economy," said Heather Briccetti, president and CEO of the Business Council of New York State, in a statement.
Dueling Think Tanks Explore Side Issues
The Fiscal Policy Institute, a labor-connected economic think tank, released a report that says that state actually needs to raise its minimum wage to $10 an hour by 2014—$1.50 more than what Speaker Silver is proposing. Doing so, the argument goes, would directly benefit folks in industries like retail, where a third of workers make less than $10 an hour. The report says 88 percent of these are full-time adult workers.
"It's certainly a big step in the right direction, and it's very positive in that it acknowledges that the current minimum wage is far from adequate," said FPI's deputy director and chief economist, James Parrott, in a phone interview.
On the other side of the argument was a piece up this morning on the Empire Center of New York State Policy—a business-friendly conservative think tank—blog The Torch. The piece, by EJ McMahon, doubled-down on the points made by Empire Center senior fellow Rus Sykes that the state is in a better position to help lower-income earners through the current earned-income tax credit system than a minimum wage hike. The EITC system, they say, pumps $4.5 billion into the state's economy, and proved minimum wage earners with an effective equivalent income of $10.44 per hour.
"The minimum wage increase being proposed by Speaker Silver...is not targeted to low-income workers. Only about 20 percent of the benefits of that increase will go to low-income households," Sykes said over the phone. According to his analysis, most of the money will be going to teenage workers, or multi-earner households.
"We think a mini wage increase is job killing, a really bad idea and is trying to solve a problem that really doesn't exist in New York," Sykes said.
A Political Storm in a Teacup
But if you talk to Kent Gardner, president and the chief economist of the Rochester-basedCenter for Governmental Research—which bills itself as independent and non-partisan—the claims on either side end up over-blowing both the potential good and harm of a minimum wage increase.
"I think that most economists understand that a minimum wage is a mixed bag," he said. "One can't simply decree that prices shall change without there being consequences and the consequences are going to depend on who you are as an employer and who you are is an employee."
Gardner said that it was absolutely true that raising the minimum wage would mean some people would either lose their job or simply not be offered one. But he also said that an increase helps bring wages up for those in sectors of the economy where they either deserve more, or employers are able to pay more, or both.
But in a place like New York, don't expect what's being proposed to have a dramatic impact either way.
"Particularly for a relatively high-wage region [like New York], the minimum wage [increase] may have a relatively modest effect on business, and would have a small impact on people who are very much at the bottom," said Gardner.
He did, though, question the wisdom of pushing a minimum wage increase during a soft labor market.
"There are a lot of people out there who are willing to take a job--any job--and there's no question that if you bump up the minimum wage, you're going to reduce the number of jobs," Gardner said.
But the fact that the economy remains a tough one for workers and job seekers is exactly the sort of political calculus that goes into pushing for something like a minimum wage increase, and for opposing it. While most workers might be untouched by a minimum wage increase, the opportunity to take a principled position that plays to a base means we've probably only seen the beginning of the minimum wage fight.
"This has much greater political impact than it does substantive impact," Gardner said.