LATFOR draft maps are released for both Senate and Assembly--updated
The wait is over!
Draft maps have been placed on the New York State Legislative Task Force on Demographic Research and Reapportionment website. A statement from the task force, co-chaired by Republican Senator Michael Nozzolio and Democratic Assemblyman John McEneny, called the plan "fair, legal and protects minority voting interests."
Not surprisingly, Senate Democrats are not taking the lines well.
"This Republican proposal contains none of the criteria reformers sought and none of the reforms the Governor included in his proposed legislation," Senate Minority Leader John Sampson said in a statement "The Republican-proposed districts are not compact, vary widely in population, and divide communities of interest in blatantly political ways."
Former mayor Ed Koch, who saw Senate Republicans renege on their promise of an independent, non-partisan redistricting process, is also blasting the plans.
"No surprise, I am disappointed in this result and in the dishonorable lawmakers who openly pledged to do things differently this year, and then reneged when it wasn't to their political advantage. What a shame: this is not reform in letter or in spirit," Koch said in a statement. "Today, victory lies with the Enemies of Reform."
He called on Governor Cuomo to keep his promise of vetoing maps that were not independently drawn an overtly partisan.
Governor Cuomo ran for office pledging to reform the way our state works, and to date, he's kept his word," Koch said. "Just this afternoon the Governor said his position has not changed, which I applaud him for, and I have every confidence he will keep his word to the people of New York and veto the proposed maps."
The images for the Senate districts are below. The Assembly districts are after the jump: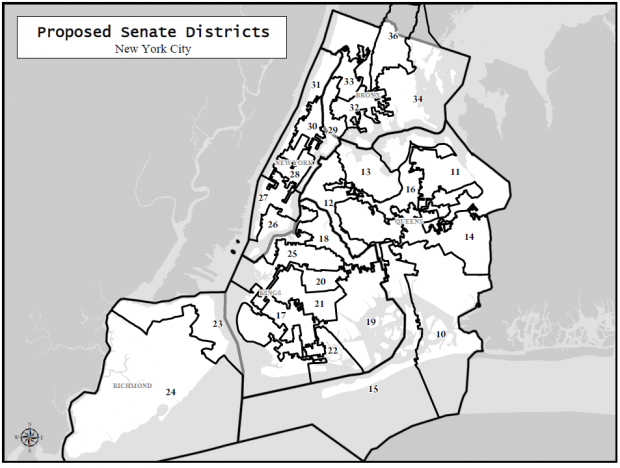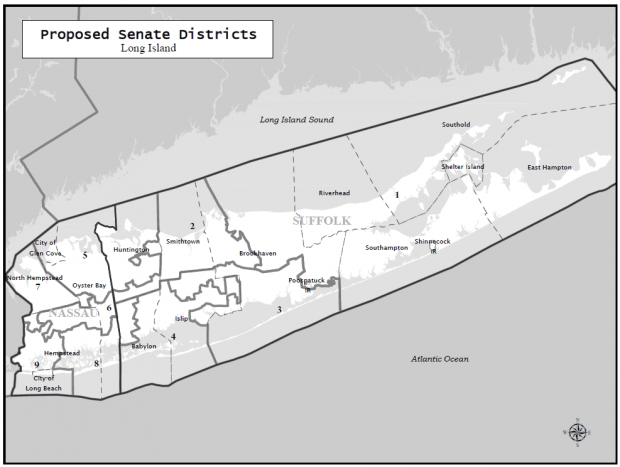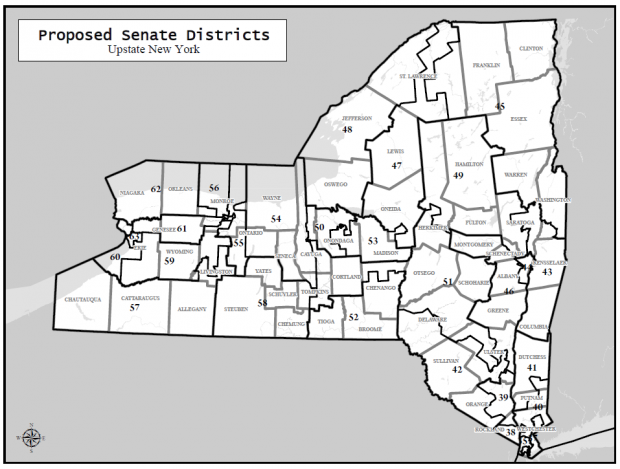 [caption id="attachment_13468" align="center" width="620" caption="New York City's proposed Assembly lines" credit=" "]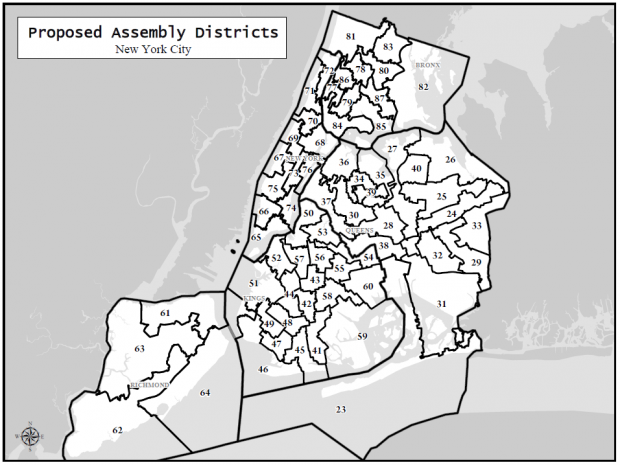 [/caption]