Liu's job approval numbers plummet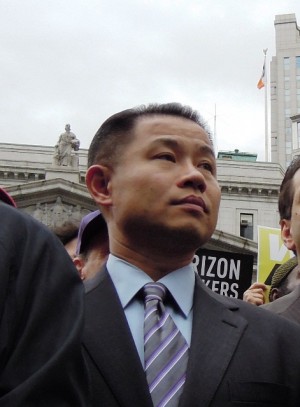 The fundraising controversy surrounding City Comptroller John Liu has taken its toll, according to a new Quinnipiac poll. Only 38 percent of those New York City voters polled gave Liu the thumbs up--that's down from his high of 57 percent back in May.
While Liu's standing in the 2013 field doesn't appear to have changed--he's always been pulling single-digit support--voter's sense of his qualifications as mayor are dismal. Among the three citywide(-ish--Quinn wasn't technically elected citywide) Democrats potentially running in 2013--Speaker Christine Quinn, Public Advocate Bill de Blasio, and Liu--46 percent of those polled said Liu would not make a good mayor. That's compared to 37 percent for Quinn and 22 percent for de Blasio.
"New York City Comptroller John Liu has been in the news a lot, in a bad way. All those negative stories about his fundraising have zapped his job-approval numbers," said Maurice Carroll, director of the Quinnipiac University Polling Institute, in the release. "And voters say almost 2-1 that he would not be a good mayor.
"City Council Speaker Christine Quinn and Public Advocate Bill de Blasio have OK job approval ratings, but voters don't seem enchanted with the prospect of either elected official as mayor."
But don't take this as a sure sign Liu's 2013 ambitions are dead in the water. Looking at his job approval number details, he's still managing to receive the majority of Black voters and a plurality of Hispanic voters' support. In other words, the multi-racial coalition, backed by labor (there's been no indication the labor-backed Working Families Party has thr5own him under the bus, despite his current spat with Teamster Local president Gregory Floyd), hasn't broken up--at least not in the polls.
Of course, both groups gave Speaker Quinn higher marks, just reinforcing her position as the front runner.