Last week we announced our Significant Object story contest. We picked out three objects from a thrift store: a doll ($5), a thermos with the Marlboro logo ($5), and a wooden trinket ($1). We want you to perform creative alchemy, turning the junk into treasure by giving it a backstory. It can be in the form of a short story, poem, encyclopedia article, comic … you choose.
→ Enter the contest — deadline is April 8

We featured passages from two backstories on this week's show — here they are in full: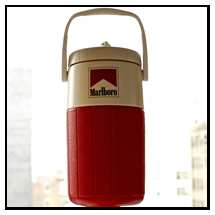 John — Washington, DC
I'm not a smoker. But my dad smoked. He was a Marlboro man, not in the rugged, cowboy sense, but it was his brand. He switched from L&M when Marlboro offered two free packs with the purchase of a thermos.

I've never smoked cigarettes before, except the one time he gave me a puff when I was four or five years old. I had always longed to smoke. I wanted to be just like him. Smoking looked fun. Smokers looked cool. They always appeared to be socializing and enjoying themselves in some desirable activity like skydiving, hiking, or even barbequeing. I still remember that first drag, and glad for what it did for me. I was standing in the family room. My dad and Dr. Duffy, our neighbor, were standing there, sharing a joke — each with a cocktail in one hand and a cigarette in the other.

I yanked at my dad's sport coat. "Please, can I have a puff?" The two men looked at each other. Then my dad handed me the lit smoke. I tentatively put it to my lips, then inhaled deeply. My lungs instantly rejected the smoke. I coughed reflexively, a stinging sensation filled my gut. "Uggh!" I spat. The two men had another laugh.

The thermos represents two things for me: First, the lesson that my dad taught me. I never felt he was being irresponsible, but showing me early that smoking isn't cool. The second symbol is the cheap price tobacco puts on a person. For two dollars, Marlboro gave smokers two packs of cigarettes and a quart thermos, a tribute to your good taste and commitment to their brand. When he died of lung cancer 20 years ago, Marlboro and L&M offered no memento, no apology. This miserable thermos is it.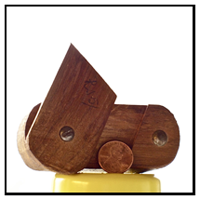 Byra — Ashburn, Virginia
2 nuts, 2 bolts, and 2 pieces of wood
emphasized what I couldn't do and what I wasn't to my Dad.

2 nuts, 2 bolts and 2 pieces of wood
spelled out the onset of poor self esteem.

2 nuts, 2 bolts and 2 pieces of wood
all you need is a little imagination he said.
all you need is to try he said.
all you need is to make something he said.
finish something he said.

2 nuts, 2 bolts and 2 pieces of wood
turned into something unusable
useless

2 nuts, 2 bolts and 2 pieces of wood
turned into a wedge made of wood
between me and Dad.

2 nuts, 2 bolts and 2 pieces of wood
3 thrown in a box of junk.

2 nuts, 2 bolts and 2 pieces of wood
thrown on a shelf in a thrift store.

2 nuts, 2 bolts and 2 pieces of wood

symbol of a lost relationship.
Music Playlist
Belleville

Artist: Django Reinhardt & Stephanie Grappelli

Album: Djangology

Label: Recall Records UK