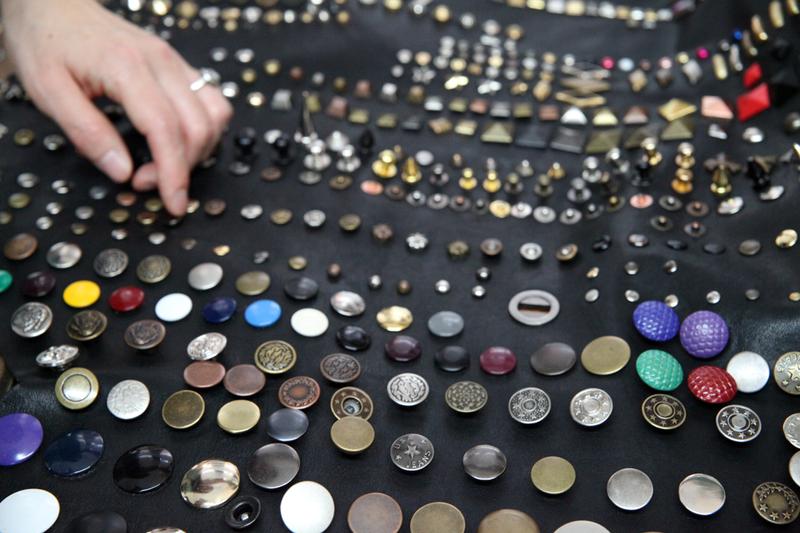 New York is a city of specialists from foodies to academics, laborers to shopkeepers. Every Wednesday, Niche Market will take a peek inside a different specialty store and showcase the city's purists who have made an art out of selling one commodity. Slideshow below.
Star Snaps NYC
262 W. 38th Street, Suite 202
New York, NY 10018
Nestor Cortes' foot kicked the lever and the press came down with a bang, forcing a grommet into a thick piece of white stretch fabric. This grommet—a steel ring—fiercely grasping the edges of a round hole in the cloth, was just one of 100 which Cortes would carefully punch into the interior lining of what his client called an "avant garde" jacket. (The holes certainly weren't designed for warmth.) While Cortes worked in a back room crammed with small drawers brimming with snaps, grommets, eyelets (small grommets), jean buttons and decorative rivets of all shapes, material and size, the fashion student waited patiently in the front room, listening to the rhythmic bangs.
Cortes is the owner of Star Snaps NYC, a tiny business with a passionate following in the garment district. When the phone rang, Cortes took a break from the kick press. "Star Snaps NYC," he said crisply. "Oh, hi—you owe me like $200! Where's the money at! No—I'm joking, it's only $16. Don't worry you can pay later on," Cortes laughed into the receiver.
A constant stream of fashion designers, hobbyists and students parade in and out of Cortes' shop, which not only sells, but applies the small fasteners that help keep pants securely on, bags snapped shut, drawstrings running smooth and random clothing items fashionable.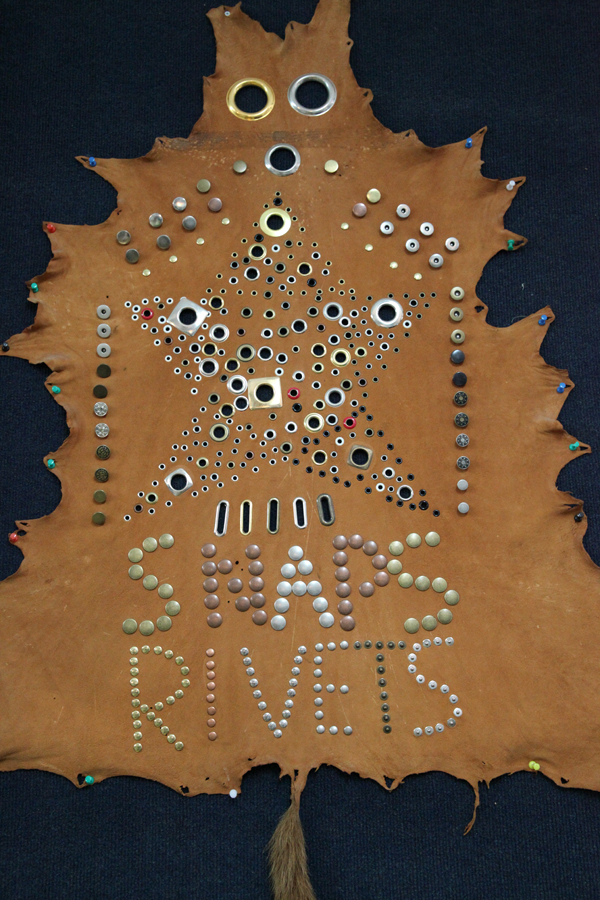 A bracelet designer from Burkina Faso ate her lunch while waiting for 26 snaps to be applied to the tie-dyed wraparound bracelets she would sell at street fairs. Three members of a women's wear design company entered merely for inspiration, eagerly pouring over Cortes' swatches of snap and jean bottom options. A fashion consultant requested small white eyelets to use for a small run of men's board shorts. Louis Augustin, sporting a denim jacket he decorated himself with sharp metal rivets and patches, came in for a small bag of "feminine looking" rivets he wanted to apply on a friend's jacket.
"I've just, like, always been creative, I just like doing my own thing, like looking different, and somebody put me onto this store many years ago," Augustin said. 
No job is too small for Star Snaps NYC. Cortes, who is on a first name basis with many customers and offers While-U-Wait service, will repair a broken snap on a beloved pair of jeans for as little as $1.50. On the same day he gives discounts to students he might apply antique brass snaps for a high end designer like Betsey Johnson. Cortes says the trick of his trade is knowing which products can be applied to what fabrics. He has six kick press machines that apply items with specific amounts of pressure, depending on the delicacy of the material. (No glue is used at Star Snaps NYC — all the fasteners are applied through pressure and grip.) "Products you can use on leather you cannot use on stretch fabric because it will damage the fabric," warned Cortes.
Cortes, 34, has 20 years of expertise and two smashed fingers to prove it. After emigrating from Mexico to Los Angeles in 1993, Cortes says he started working in garment factories when he was 14 years old. He started out snipping loose threads, but soon became intrigued by the press machines. Over the years he built up his knowledge through applying the finishing touches to garments in various factories that specialized in leather, denim and stretch fabric. "I can make a belt without doing any stitching. I just put the rivets on and I punch the holes and I just cut the belt how you want it, and that's it! You got a belt," he said with pride. "Most of this I learned this in Los Angeles, and let's say I put the last ingredient in NYC."
Cortes, who opened up shop in 2006, has one helper in the shop, but prefers to do the work with his own hands. "This is my main thing that I love that I do, so I decided to open the business," he said. "I love that we make different designs, and you deal with different designers." The constant stream of new projects means he doesn't get bored.
The fact that many New York based designers manufacture small sample runs in the city before sending designs overseas for large-scale production suits Cortes' business model. He doesn't see himself in competition with Asia, and besides, he says, "people still come so I think I'm doing the right thing."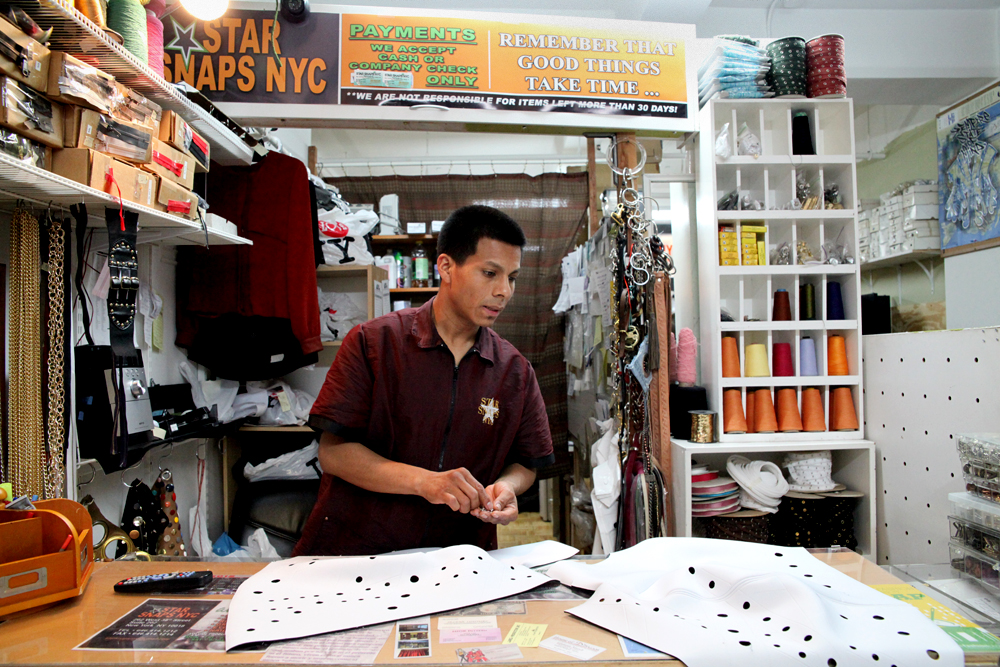 (Photo: Nestor Cortes, owner of Star Snaps NYC. Sarah Kate Kramer for WNYC.)
Interview with Nestor Cortes, owner of Star Snaps NYC
What are the different types of items you sell? 
I have four different types: eyelets, snaps, jean buttons, rivets and the other ones are almost the same as eyelets, we call them grommets. I have many different sizes, different shapes and different qualities. You have to have different colors, and the most important is different shapes — because the designers don't want to use the same shape all the time. For a different season they want a different color and different sizes and different shapes. So you have to be prepared all the time, when the designers come to the store they want to get what they are looking for.
Where do you get all your snaps, rivets, jean buttons and eyelets?
I have different suppliers. Most of the products are from Italy, some are Japanese, part of them are also Chinese, but the good ones that I really love are the Japanese ones and the Italians too. And also products that are made in the U.S., right here in the U.S. are really nice.
Is pretty much everything you do for clothing?
Yes. And you could also say like from head to toe. I also could put things on shoes, on hats, on sombreros and all those things. Leather jackets, pants, skirts, shoes, etc, etc. 
What's the difference between putting a snap on leather versus another material?
When you want to put a snap into a thick leather, there is a heavy duty snap that you could use. But if you want to put that heavy duty snap into stretch fabric, it won't work because it will rip it off. The leather has more support for the snap than stretch fabric.
Is your business growing?
Yes! The business is good right now because we are not in a bad economy. It sounds like it's bad but it's not as bad as three or four years ago.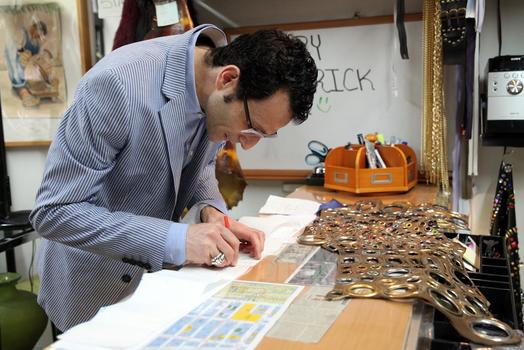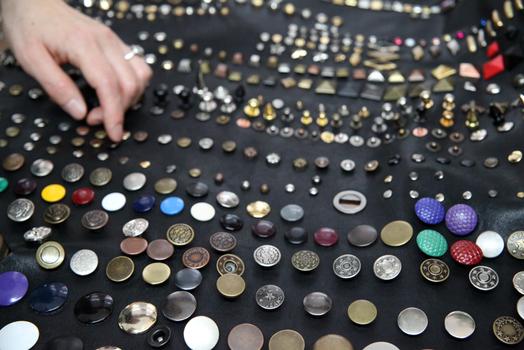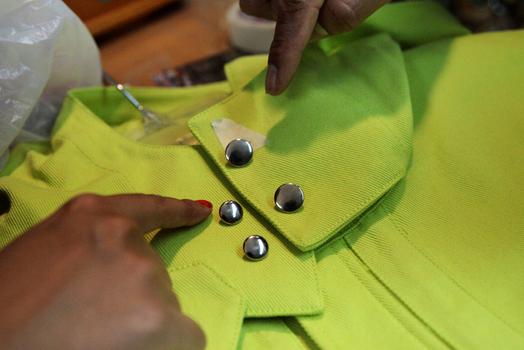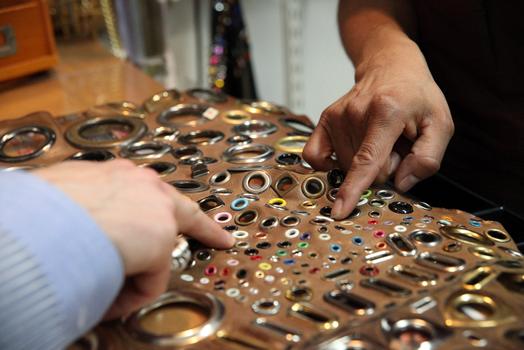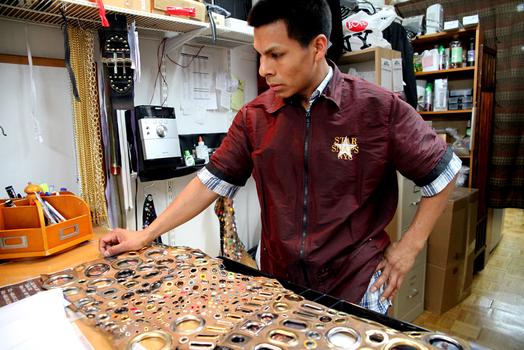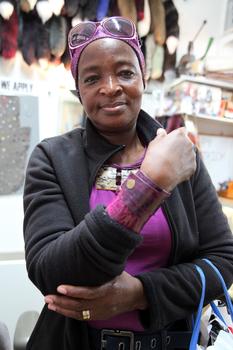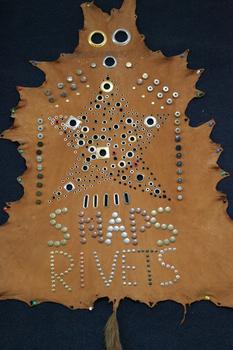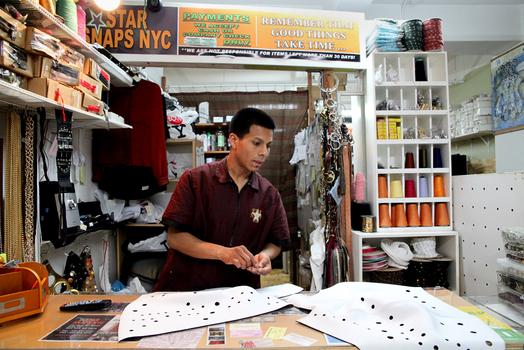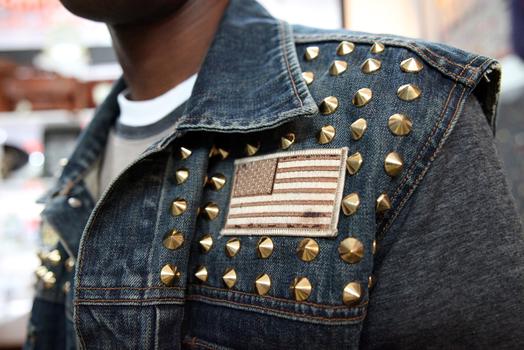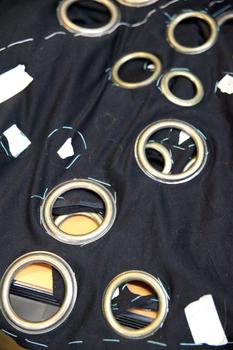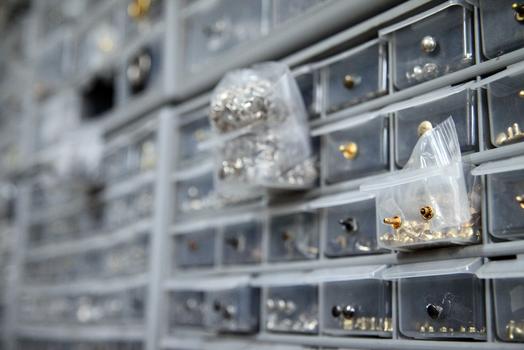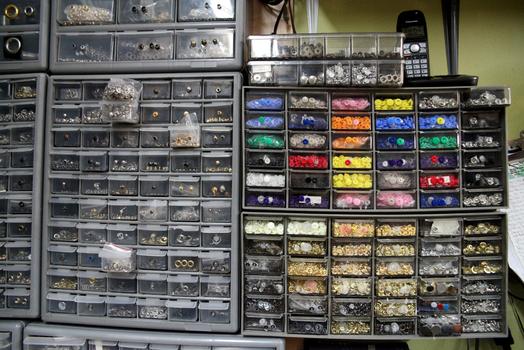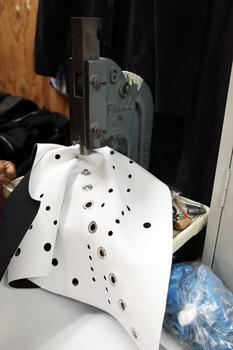 of