Bracket | Most Memorable GOP Debate Moments (Final Four)
Only four debate moments remain, and today they battle it out for a spot in tomorrow's championship match-up.
"Oops" won the Gaffes division and now faces the Newt v. John King smackdown, which was the best of the Dust-Ups.
On the other side of the bracket, "9-9-9" won the Policy Jingles division and the booing of a gay soldier took Audience Participation.
It's all #1-seeds left, folks. The winners of these two match-ups will face each other on Tuesday, when one will be chosen as the most memorable debate moment of the 2012 nominating season.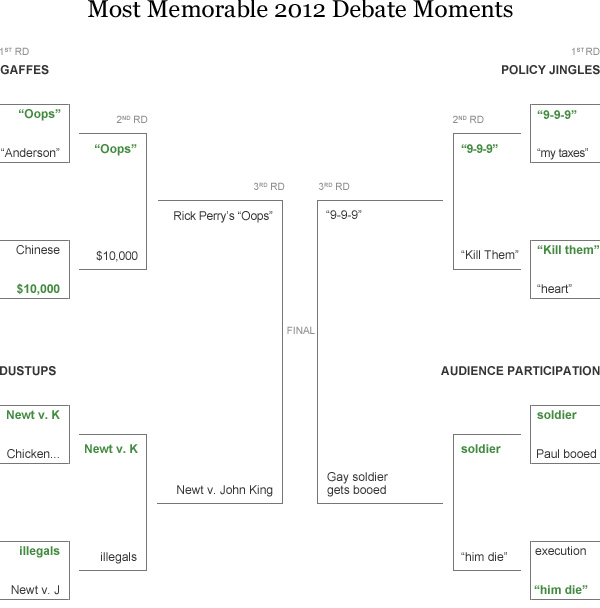 (1) Rick Perry's "Oops" vs. (1) Newt v. John King
The biggest gaffe versus the biggest smackdown.
November 9, 2011 — CNBC Michigan Debate
January 19, 2012 — CNN South Carolina Debate
(1) "9-9-9" vs. (1) Gay soldier booed
Best catch phrase, biggest boo.
September 22, 2011 — Fox News Google Debate
September 22, 2011 — Fox News Google Debate