Last Chance Foods: Broccoli
As anyone who frequents I Can Haz Cheezburger? will tell you, adorable animals such as hamsters and kittens love broccoli.
For good reason, too. Broccoli is packed with vitamins, minerals, folic acid and calcium. Not to mention, as part of the cabbage family, it has anti-carcinogenic properties, making it worthy of love from animals and humans alike.

At Fishkill Farms upstate, this year's crop was less robust than in the past. The wet weather stymied broccoli growth, not to mention brought on the late blight that claimed half of the farm's tomato crop. The last planting – the farm plants three times a year, in spring, summer, and fall – made it through the first light frosts, says Hannah Geller (pictured below), the store and cafe manager at Fishkill. Broccoli gets sweet with the cold because, like many of the late fall crops, it produces more sugar to keep from freezing.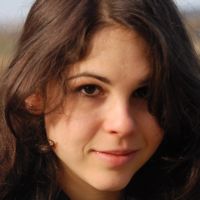 Geller also noted a trend in the customers who visit their farmers' market stands. At Fishkill's upstate markets, people prefer common staples like broccoli, while at the markets in the city, rare and expensive produce like kohlrabi are the first items to sell out. For those looking for fresh broccoli, the standards are the same anywhere: Look for small, tight, vibrantly green florets, says Geller.

There seem to be a million ways to prepare broccoli – from the raw crudités popular at holiday parties to warm broccoli-and-cheese soup. "I generally find broccoli best when quickly stir-fried with Asian flavors," says Geller. The recipe below she adds "is a nice change, with a versatile Italian flavor and unusual soft, but not mushy, texture."

The frigid winds of mid-December bring the last of the annual broccoli harvest, and it is quickly disappearing from farmers' markets. "When it gets to about 20 degrees, broccoli starts getting damaged," explained Geller, in a conversation with WNYC's Amy Eddings. "Probably the broccoli you were getting last week or the week before was the best."  So consider this the Last Chance Food red flag that the time for broccoli is winding down.

Broccoli with Garlic and Anchovies
adapted from Vegetables Every Day by Jack Bishop
Olive oil
4 cloves sliced garlic
3 minced anchovies
1 teaspoon of red chili flakes
1 bunch broccoli
1. Chop broccoli, separating the florets from the stalk, which is cut into half inch slices.
2. Heat a few tablespoons of olive oil in a pan. Add garlic, anchovies, and red chili flakes. Sauté until garlic is golden.
3. Add the broccoli to the pan along with two thirds a cup of water. Cover and simmer for 10 minutes, stirring once or twice.
4. Uncover, cook a few minutes until remaining liquid evaporates.
5. Season with salt and pepper.

Here are more recipes.
Almost-Famous Broccoli-Cheddar Soup (Food Network)
Creamed Broccoli with Parmesan (Gourmet)
Steamed Broccoli with Chili Oil (The Splendid Table)
Tyler Florence's Broccoli Slaw with Cranberries (Oprah)
Pickled Broccoli Stems (The New York Times)

Next week, George Weld, the chef and owner of Egg in Williamsburg, Brooklyn, chats with Last Chance Foods about cabbage. Leave your recipes or questions for him below.