Bracket | Most Memorable GOP Debate Moments (Round 2, Day 2)
Two spots remain in the Final Four. Today decides the winners of the Dust-Ups and Policy Jingles divisions.
Will Newt Gingrich's bludgeoning of John King trump a good old fashioned back-and-forth between Rick Perry and Mitt Romney? And can Herman Cain make it further in our bracket than he did on the campaign trail?
Two of the Final Four were decided yesterday: "Audience boos gay soldier" won the Audience Participation division, while Rick Perry's "Oops" advanced easily out of the Gaffe division.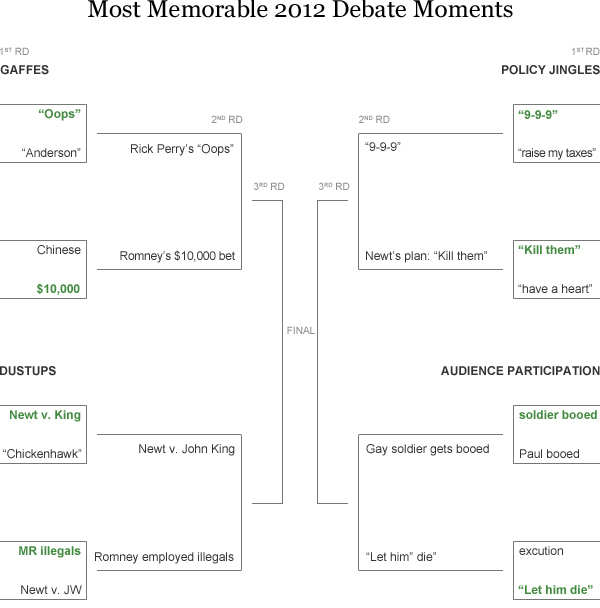 Round 2
Dust-Ups Division: (1) Newt v. John King vs. (3) Romney employed illegals
There was a slight upset in Round 1 of the Dust-Ups division, as the #3-seeded Romney/Perry immigration tiff edged out Newt's #2-seeded smackdown of Juan Williams. Romney/Perry now has to go up against another one of Newt's patented tirades.
January 19, 2012 — CNN South Carolina Debate
October 18, 2011 — CNN Las Vegas Debate
Policy Jingles: (1) "9-9-9" vs. (3) Newt's plan: "Kill Them"
I think it's safe to say Herman Cain ran a much more light-hearted campaign than Newt Gingrich. That's the diplomatic way to put it, at least.
September 22, 2011 — Fox News Google Debate
January 16, 2012 — Fox News South Carolina Debate