Fundraising Falters, but Paul, Supporters Look to Convention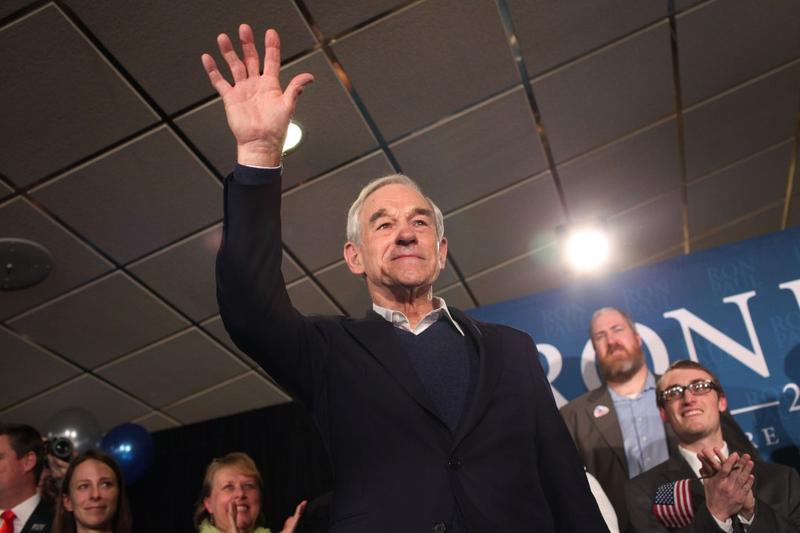 Ron Paul came in a distant third in the Illinois primary on Tuesday, and raised less money in February than during any other reporting period since the beginning of his campaign. Still without a primary win under his belt, and reportedly organizing zero campaign events during the past week, it's time to wonder: is this it?
Raking in only $3.27 million, Paul doled out more than he received in February, spending $3.54 million in the same amount of time. According to newly released FEC filings, his campaign now has only $1.36 million on hand—also a record low for the close of a reporting period this election cycle. (Paul finished January in better shape, but just slightly, with $1.64 million on hand.)
Granted, most of the Republican candidates spent more than they raised in February; it's inevitable, considering the malicious, marathon nominating season. There's also the fact that seven primaries were held over the course of the month, compared to just four in January.
But in Ron Paul's case, the picture has looked this way for a while: the last time his campaign reported making more money than it was spending was in October.
Bad signs
Throughout March, there have been signs that the campaign is on unsure footing financially. After a disappointing Super Tuesday, Paul sent an e-mail to supporters with the subject line "My Status as a Candidate," reminding them that the delegate race was far from over, and that his campaign would continue to solicit contributions.
"We run a debt-free campaign," Paul wrote, "and we pushed our resources to do all we could on Super Tuesday."
The less-than-stellar result of said push prompted a renewed fundraising effort. But days after this e-mail first went out, a duplicate copy was sent from another address at Paul's campaign website, this time with an introduction from "Elizabeth N."
"Dear Liberty Activist," it began, "Dr. Paul is concerned he didn't hear from you and asked me to forward you his email again."
Two days later, on March 11, the campaign sent out another duplicate e-mail. This time it was from Senator Rand Paul, the candidate's son, with a similar introduction.
"I'm forwarding this email from my dad to you just in case you didn't have a chance to read it," he wrote.
Are these the communiqués of a campaign with a healthy financial outlook? If he could run on enthusiasm alone, Paul would be riding high; it's no secret that Mitt Romney's supporters aren't exactly foaming at the mouth. But when it comes to cash, all signs point to Ron Paul's well drying up, slowly but surely.
Sights set on Tampa
One might think that without strong fundraising or a single victory in any primary or caucus thus far, Paul's campaign and his supporters would see the writing on the wall.
Instead, all they see is Tampa Bay, Florida, where the Republican nominating convention will be held this August.
"That's where the nominee is really decided," said Tom Mullen, a writer for DailyPaul.com. The fan site, which is unaffiliated with the campaign, aggregates stories about the libertarian candidate, hosts open threads, and publishes original content. Ads for Ron Paul's books and merchandise pepper the homepage, along with links to other fan pages and community forums.
"We're still very enthusiastic," said Mullen. "A brokered convention, while still unlikely, gets more likely every day. That's positive for Ron Paul, because his supporters are much more committed to him and his platform than maybe a Mitt Romney supporter who used to be a Rick Santorum supporter, or vice versa."
Ironically, Paul could benefit from a brokered convention even if he's not the reason it's brokered. If Rick Santorum stays in the race through August and continues to spoil Romney in states here and there, the few delegates Paul has picked up so far may have an opportunity to make their impassioned case to a room of divided, tepid backers come August. This assumes Romney hasn't clinched enough delegates by then to win the nomination in the convention's first round of voting
That's just about Paul's only hope at this point. Let's be honest: it's really unlikely. But it's not impossible.
Leaning on grassroots strategy, donations
The campaign and supporters have had to turn to such micro-strategizing in order to justify staying in the race and soliciting donations. In another e-mail sent out by the campaign after last night's primary results were announced, Paul touted winning 57 percent of delegates last Saturday…in Greene Country, Missouri. It's worth getting excited about, Paul says, because there's ground-level momentum in some parts of a state where delegates aren't bound by statewide results.
To some extent, supporters need to understand the minutiae of the Republican nominating process—and hone in on the silver lining—in order to remain enthusiastic about Paul: they need to become well-versed in how delegate math works; what it means to for a delegate to be "bound" or "unbound"; what exactly happens at the nominating convention; when and where campaigns find it strategic to come out strong or lay low.
"We've hit a group of states where Ron Paul has consciously not pushed as hard," Tom Mullen said. "There are states coming up where he's got a better chance, and I think you'll see a harder push."
Another caveat for those weak fundraising totals: Paul doesn't have a Sheldon Adelson or a Foster Friess bankrolling certain elements of his election effort. PayPal co-founder Peter Thiel had been a sort of angel investor in Paul's Endorse Libery SuperPAC, but didn't contribute any money to the organization in February.
"Most of Ron Paul's contributions come from people like you or me," Mullen noted. "Not big corporations or people with a vested interest."
And while Paul may have just had his worst fundraising month so far, it was still better than Newt Gingrich's: Paul received more money in February than Gingrich ($2.63 million), who also finished behind Paul in the Illinois primary.
Right now it appears that the former Speaker of the House is the weakest link, not the libertarian Congressman from Texas. Under the circumstances, it wouldn't make sense for him to drop out before Newt.
But Paul's long-term strategy relies on small donors, and it's tough to keep tapping them for money, especially given the shape of the economy. Lest there be any confusion about Ron Paul's resolve to continue the campaign, he's scheduled another "Money Bomb" fundraiser for this Friday.
Supporters seem to share his resolve; the campaign can only hope that continues to translate into donations down the stretch, and a handful of committed delegates come the convention. Considering all the disappointments he's weathered so far, it's hard to imagine that anything but a dearth of cash would keep Ron Paul from running all the way to Tampa and, the faithful hope, beyond.