Bracket | Most Memorable GOP Debate Moments (Round 2, Day 1)
Round 2 begins with match-ups in the Audience Participation and Gaffe divisions, and the winners will go on to represent their categories in the Final Four.
Rick Perry's "Oops" and Mitt Romney's $10,000 bet, the #1 and #2 seeds, respectively, easily made it out of Round 1 in the Gaffes department. Results were similar in the Audience Participation division, where the booing of a gay soldier (#1) and "Let him die" (#2) each advanced to the Elite Eight.
Check out the rest of the remaining moments on our bracket below.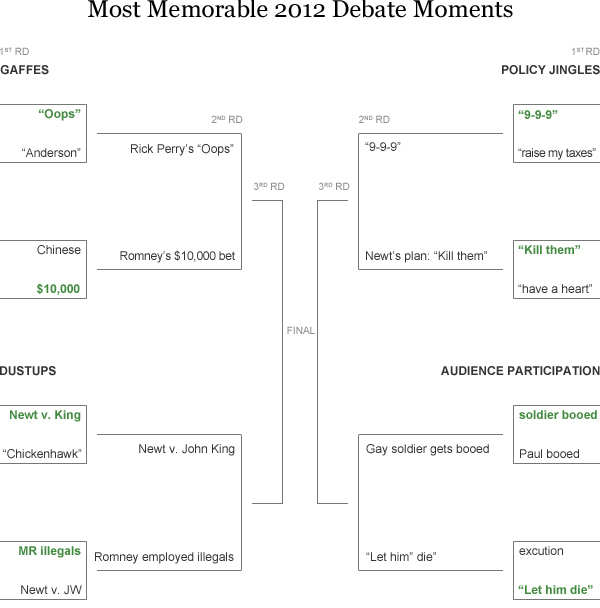 Round 2
Gaffe Division: (1) "Oops" vs. (2) Romney's $10,000 bet
The classic rivalry, rekindled. When it comes to the most memorable gaffe of the 2012 debate season, it's Perry against Romney all over again. Only this time, we're not sure that either of them wants to win.
December 9, 2011 — CNBC Michigan Debate
December 10, 2011 — ABC News Iowa Debate
Audience Participation: (1) Audience boos gay soldier vs. (2) "Let him die"
Please, audience, tell us how you really feel.
September 22, 2011 — Fox News Google Debate
September 12, 2011 — CNN Tea Party Debate